About Us, Press and Media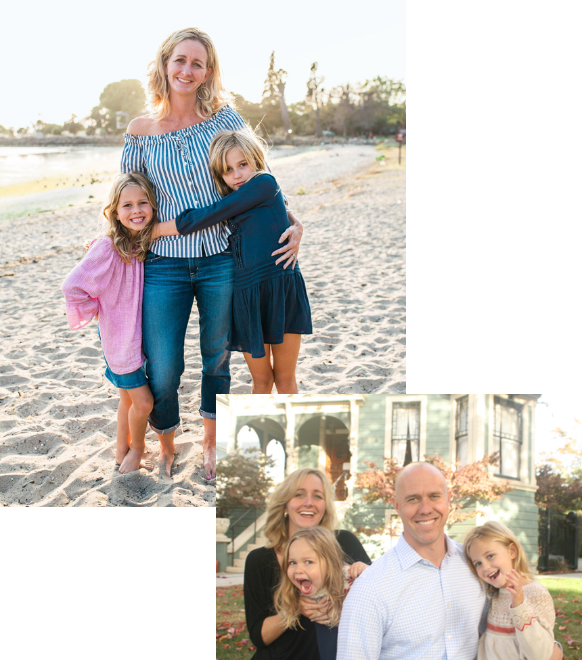 S'up, Friends.
I'm Meg, the founder and Editor-in-Chief here at Lucie's List and Edamommy Publishing, Inc.
A little about me: I have two crazy girls, Lucie (11) and Alice (9). I grew up in Virginia and Georgia and spent the last 15 wonderful years in the SF Bay area, but recently moved back east (Tampa Bay) to be closer to family.
I went to Georgia Tech undergrad and got a degree-I-never-used in Industrial Engineering. I later went to the University of Florida to get an MBA in Real Estate Finance. After the market collapsed in '08, I got pregnant with Lucie, and everything changed forever.
At the time, I had NO CLUE what I needed, let alone what to expect during pregnancy, labor & delivery, and infancy. After a miserable pregnancy (complete with hyperemesis gravidarum, kidney stones and all), failing to properly latch my baby, dealing with postpartum pain, buying overrated strollers, and struggling through sleep training, I vowed to tell everyone the *secrets* that nobody told me — the stuff that no one talks about (but should).
I created this site and weekly email newsletter (a.k.a. "Crib Notes") so others could learn from my mistakes — and hopefully have a laugh or two along the way. The email newsletter distills the overwhelming mountain of information into weekly, bite-size chunks and are delivered exactly when needed. Thanks to our 350,000+ amazing subscribers, this entrepreneurial escapade has morphed into an incredibly rich and diverse parenting community (join us on FB!).
We also attend the baby shows (ABC and JPMA) and bring you the best new stuff to keep it fresh.
In short, I tried to make the kind of site that I would have found useful as a clueless new mom. You know — all the sh*! that nobody told me?? I'm telling YOU.
Please leave me a comment or drop me a line. Thanks for your support!!
Sincerely, Meg
---
Our Staff
We have a handful of super talented and dedicated women to help run this operation. Here they are:
Melissa Kresser,
Right Hand Woman
Hi Mamas! My name is Melissa, and I am Meg's right hand woman. I answer your questions and help you get the information you need. I help manage the list of subscribers and deal with any subscriber issues. I also sort through and research all of the newest juvenile products, keep our content up to date and help write and edit new articles.
I love what I do because I believe that it takes a village to raise a child, and every new mama needs a little help.
I live in San Diego with my husband, Jon, and my kiddos, Jackson, Madison and Maxwell.
---
Charlène Barkulis, Managing Editor
Bonjour, Mamas! My name is Charlène, and I am Lucie's List's managing editor. My job is to support our team of editors and contributors through their crafts to help them help you navigate the beautiful, yet challenging world of parenthood. In other words, I am here to serve you, moms and moms-to-be — to help you find your best, most confident selves by bringing inspiring, honest stories to life.
Born and raised in France, I moved to California in 2006 to live with my boyfriend (now husband) and attended UC Berkeley, where I studied Mass Communication and Environmental Science. I eventually moved to New York City and earned a Masters in journalism from Columbia University.
A hypochondriac at heart, I've always had a thing for health reporting; and when I became a mom, my love for all things wellness spontaneously shifted to pregnancy- and parenting-related issues. That's because becoming a mom didn't come naturally to me; and the wild ride that is motherhood, with all of its imperfections and unpredictabilities, terrified me. And so I worked my #mombutt off to become "an expert" — first for myself and my kiddos, and now for everyone who's about to transition into parenthood. It's true what they say: it does take a village!
I've been lucky enough to have found mine in Brooklyn, where I live with my husband and two sons, Arthur and Leon. When I am not working, I'm usually chasing after little ones, falling down the social media rabbit-hole, enjoying a glass of Sancerre while binge-watching Netflix, or singing my heart out at karaoke. Oh, and I almost forgot: I traded my dream of becoming a professional singer for performing nightly lullabies for my boys… and I wouldn't have it any other way.
Have questions about the 4th-month sleep regression? Or maybe you simply want to tell me about a bad day you just had? I'm here, so don't hesitate to reach out.
---
Marissa Bader, Twins Editor/Writer
Hi there! I'm Marissa, and I'm Lucie's List's Twins Editor and resident mental health writer. I absolutely love this job because it merges my two greatest passions: writing and helping others — particularly parents (in addition to being a writer, I also have a background in mental health and marriage and family therapy).
When my first daughter, Harper, was born, I had NO idea what I was doing. I couldn't believe the hospital let us take home this innocent and totally-dependent-on-us-for-survival little baby! Where was the instruction manual?! Not to mention, in the year that followed her birth, I suffered a bad bout of postpartum depression that left me riddled with anxiety and sorrow. That's when a friend guided me in the direction of Lucie's List. There, I finally found some answers, a village, and a whole lot of laughs. I was hooked. Thankfully, my firstborn (now school-aged!) is turning out alright, and her younger twin sisters, Mila and Grace, are following in her footsteps – literally… they try to do everything she does.
In addition to Lucie's List, I work as a freelance writer specializing in topics pertaining to mental health, wellness, fitness and parenthood (check me out here). My work has appeared in various publications such as HuffPost Parents and Psychology Today. I also recently published my first children's book, The Only Me, about a little girl who struggles with her self-worth and identity due to constantly being compared to her twin sister. I have a BA in journalism from Indiana University, and a MA in marriage and family therapy from Saint Mary's University of Minnesota.
When I'm not working, you can likely find me in my hometown of Minneapolis, dancing, savoring nature, enjoying happy hour with friends, or playing dress-up with my three girls and husband (who is totally drowning in tiaras and hairbows)!
Questions about having twins or multiples? Want tips on the best gear for twins? Struggling with PPD/PPA or other mental health concerns? Please feel free to email me anytime. I'm happy to offer any advice and support I can.
---
Brittany Clair, Researcher/Writer
Hi! I'm Brit, Lucie's List's research aficionado. I live with my husband and two kiddos in Maine. I have an MA and a PhD in history, and my field of expertise is U.S. medicine/health. I've taught and written on the history of women's health, pediatrics, parenting, and motherhood. My newest book, Carrying On, is about the history & science of prenatal health "norms," and my first book, Rest Uneasy, is a history of SIDS. You can see some of my other medical history work here.
Since I became a mom, I've been using my training to uncover insight into parenting questions… daily. I'm fascinated with parenting health literature, science, and advice, and regularly investigate parenting decisions large and small. In between trying to find time for yoga, happy hour, cross country skiing, podcasts, and biking (yeah right, kidding — those were all the things I had time to do before I had kids), I love keeping up with the latest pregnancy books, unpacking new medical findings, and reading everything I can about family health.
---
Giveaways and Samples
Would we like to review your product? … Maybe!
We always want to share the latest and greatest products with our audience, but please understand when it comes to reviews, we call it as we see it. Therefore, we cannot promise a favorable review for any product, nor can we ship samples back to you.
If we like your product, we will eagerly share it with our audience (we might even do a video review!); if we don't, we'll keep mum (i.e., we're not going to take the time to write a bad review, we just won't review it at all). Deal? To get in touch, please email Charlene.
---
Advertising and PR
I'm sorry, but we don't advertise. It takes too much away from the user experience.
PR reps, we love you, but we don't really care if a celebrity is using your product. However, we do want to know you and get product updates, so please keep in touch.
---
Contact Us
If you'd like to contact us for any reason (other than to sue us), please email our peeps. If you want to sue us, please call 415-555-5555.
I'm sorry, but we cannot offer sleep or feeding advice to individuals (there are just too darn many of you!).
Meg is a former CPST (Child Passenger Safety Technician) who published a top-selling travel eBook called Flying with Baby. She lives in Alameda, CA with her husband, Rich and two daughters, Lucie (9) and Alice (7) — and still has the ashes of her dog sitting in an urn in the living room.