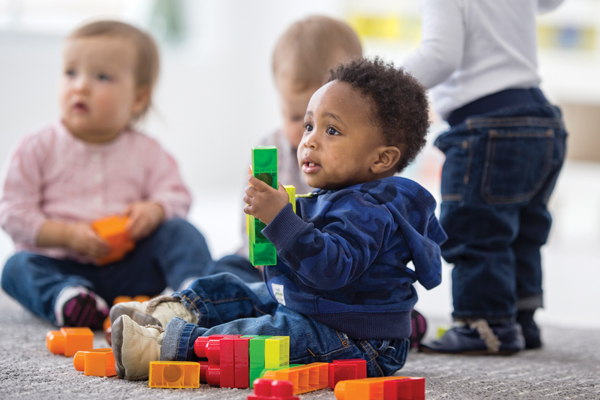 Top Answers From our Readers:
I just went through this on Monday! I started back at work today. My suggestion for coping with going back to work after maternity leave is to have your little one go to daycare a few days before you go back to work, so it's not so much on one day for both of you. I was a wreck on Monday; literally cried all day, and couldn't imagine that I had to go to work right after. Yesterday, it was a little easier to drop her off, and today was even better.

I still miss her tons, but having her go a few days before was the best decision I made. I was able to get more familiar with the teachers and the daycare center too in those two days and it really helped put my mind at ease knowing that she is in terrific hands.

Also, don't be afraid to call them and check in on your LO too. If they are open to texting you pictures and updates as well throughout the day, even better! As much as it pains me that I need to send her there rather than be home with her, I think of it as good socialization for her to be around other babies and toddlers, and she is going to learn so much from the teachers too. Good luck, Mama!!

Nina Nigro Thomas
Take really good food/coffee with you and enjoy the fact that you can eat/drink/pee by yourself at work. 🙂

Sarah Nolan
I recommend the ripping the band-aid off quickly the first day approach, which does not seem to be very popular based on everyone else's comments. It worked for me. I wanted every single second I had with my daughter before having to take her to daycare that first day back. The first day was terrible, but it's coming no matter what you do and no matter if you do some half days before or not. The thing I DO recommend is maybe starting your return on a Wednesday. A shorter first work week will make the full days back more bearable. And it DOES get easier!

. Pamela Webb Elliott
You will cry, but it's okay. Have your husband drop off your baby if possible so you can say your goodbye at home. The first day is by far the hardest, and although I still don't love that my daughter (8 mos) has to go to daycare every day, it does get easier. She loves it and I know it's good for her to spend time with other kids!

Shannon Grove
It's harder on you than it is on them!

Sarah Parker Bristow
Honestly, it sucks. But the first 2-4 weeks are hardest. Then you learn to appreciate your adult time, using your brain, and you cherish the time with your kids. I also think my kids are much better behaved and have way more fun spending time with other kids and other adults at daycare. It WILL be fine. Just not at first, so take a tissue and have some photos with you.

Jennifer Junkin
My husband does the drop-off and I do the pick-up, so I never have to deal with morning tears, just afternoon smiles. 🙂

Lindsay Beckord Jovanovich
See all the answers here.