Travel Child Proofing Tips, Hacks, and Advice
It's good to know that having some on-the-go child proofing travel tips and tricks up your sleeve can seriously enhance your travel experience, especially for kids under four.
We've pooled our collective travel records to share our favorite travel child proofing solutions. These are all easy – they're portable, cheap, quick, or all of the above. Have fun!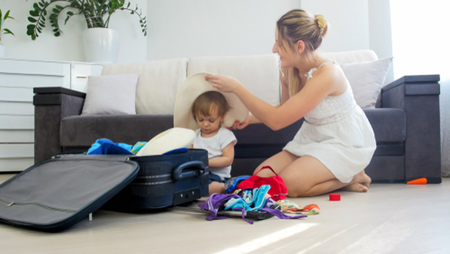 First Things First
When you arrive at your hotel room or rental house, you want to do a general clean sweep of the space. Take note of how everything looks (you might even snap a few photos on your phone to help with this), and then start your work:
First, remove knick-knacks and breakables from surfaces and put them up in a closet or on a high shelf out of reach. You might even want to remove things like remotes, travel brochures, information cards, etc. — anything you don't want your child to destroy should get put away out of reach.
My advice: don't be shy with this step. I've done a lot of "redecorating" while traveling with two small children, and every minute spent doing so was well worth it. Even if there are things you forget to move back, don't sweat it — an out-of-place lamp is better than a broken one! And everyone's vacation is way more enjoyable when you're not constantly yelling at your kiddos to leave things alone or prying delicates from their tiny fingers.
Entrances and Exits
See also: Babyproofing Your Fireplace and Pool Safety Basics for Children
The next step is to ascertain the door situation, as well as openings for any "special" features, like a fireplace, fire pit, hot tub, pool, etc. Make sure that your own room/home has locks that work, and check that things like pool gates or outdoor fences also lock. If there are any gaps, see what you can do to fix them closed as best as possible while you're there. For homes, you can always bring door knob covers (effectively, locks) along.
If you're staying somewhere with a pool, be extra-vigilant — read up on keeping your baby/toddler safe near a pool ahead of time. There are some wearable or portable devices you can bring on vacation that may give you some extra peace of mind.
If you have an AirBNB or a rental home, and your child is staying in her own room, this is also a good time to check that door. Can your child accidentally lock herself in (this can easily happen with those twist door handle or push button locks)? Again, a simple door knob cover can help with this, and barely takes up any space in your suitcase.
See also: The full Childproofing Door Knob Covers and Locks review
Drawers/Cabinets
See also: The complete Drawer and Cabinet Locks review
If you're staying anywhere with a kitchen or a sizable living space, there are probably going to be drawers and cabinets you'd like to keep your kiddo out of. There are several easy fixes:
Use rubber bands/elastics/hair ties to bind knobbed cabinet doors together; this works best for younger babes (compared to older toddlers).
Use dog collars from the dollar store (!) to bind cabinet doors with handles together (these are especially smart because you can adjust them in length!).
Use painter's tape to "lock" cabinet doors together. Note that this is ideal for cabinets you don't need to use frequently, but quite annoying for any spaces you plan on needing access to. Also, keep in mind that duct tape can leave residues and harm finishes, so painter's tape is better. Another more "permanent" fix like this is a zip tie. (To do this: wrap the tape/zip tie around cabinet doors/handles/knobs multiple times.)
Drawers… sigh. They're TOUGH, ya'll. It's a problem. We don't have an easy drawer fix but here are a couple ideas:


You could throw some kind of pole/stick through drawer handles (a tension rod, yardstick, a literal stick, etc.), like so (see below).
You can also use a long utensil, like a serving spoon or spatula, to keep drawers closed (two at a time).
for single drawers you won't need access to often, you could use a sh*tload of painter's tape to stick them closed.
Outlets
See also: The full Outlet Covers review
Or, you can use painters tape to cover up outlets.
Toddler Bed A La Mode
To create a makeshift toddler-safe bed, push a bed up against the wall, and then tuck pool noodles or pillows under the fitted mattress on the opposite (exposed) side of the bed — these act as a functional bed rail. Genius!
Or, you can place the mattress on the floor.
This portable inflatable toddler mattress makes sleeping at hotels and relatives' houses more comfortable for everyone. It sits low to the ground and features security rails to keep your tot secure and comfortable all night. Comes with electric pump, mattress sheet and carrying bag.
Tables
If you have a crawler or an early (toddling) walker, you might want to bring along some corner guards to cushion coffee table edges or other corners.
Bath Time
See also: The full Baby Bath Safety review
Travel Medicine Kit
America's poison control centers receive roughly half a million calls each year from accidental pharmaceutical exposures in children; the vast majority of these happen to children under 5. Nearly all of these are a result of unsupervised children getting into medication. Those colorful, delicious ibuprofens are so alluring! And so dangerous. Hopefully you keep your medicines in a safe place at home, but don't get caught off guard when you travel.
Enter this childsafe Bag (pictured above); kids cannot get into it! This is the perfect place to keep your meds when you travel, or even at home. Also!! In our research, we found that grandparents are four times more likely than parents to keep prescription medicine in easy-access places. Please have a convo with your parents about keeping their medicines put away when your kids are visiting— or vice versa. [See also: Babyproofing for Grandparents]
For me, this bag is a no-brainer. I have one for my meds and one for the kid's emergency travel meds, like kid's ibuprofen, kid's Benadryl, cough medicine, etc. I use the whole thing as a travel kit with a thermometer, Band-Aids, etc., so everything's in one place.
If your family travels frequently, we highly recommend keeping all of this stuff handy in a little bag. With a specific "travel kit," you always have your items ready and never need to pilfer from your own child proofing stuff at home. In it, you should include:
See also: The full Babyproofing Window Safety review
Use painters tape to hold any cord/blinds strings up out of reach.
Close and lock all windows that could pose a falling hazard — unfortunately there's no "travel window lock," but most (modern) accommodations will have locks (well, they should, anyways).
You know how most rental homes tend to have those really sheer window coverings that block about 2% of the light from the sun? These aren't a babyproofing item per se, but we highly recommend these portable travel blackout shades — they make rooms dark in an instant so you at least have a chance of sleeping in! We don't think the suction cups work very well, but you can use your handy-dandy painters tape to keep them in place. Helloooo, nap time!
Whew — OK. Happy travels! NOW you can kick back, relax, and enjoy the view.
Cheers, y'all! Now get out there and see the world ✈️.