When your toddler gets a little older and taller (preschool age), many parents will then purchase the next stage of car seat: a forward facing (or a front facing) car seat.
These seats go by many names, depending on the manufacturer: "forward facing seat," "harness-to-booster," "combination seat," or a "3-in-1 (or 2-in-1) seat."
Note: These are different than regular boosters (or "high back boosters" – otherwise called belt-positioning boosters) because boosters don't have the option of using a harness — and most kids are not ready to graduate from harness to seat belt until at least age 5.
Nowadays, there's a new class of child safety seat called all-in-ones (4 in 1) that go from infant to booster. If you're already in the forward facing zone, these seats would be overkill since you are already past the rear facing phase.
These seats start with a five-point harness, just like a convertible car seat, that can later be removed to use the seat with the shoulder belt as a high back booster – also known as a BPB (belt positioning booster seat) and even later, as a backless booster (hence the "3-in-1" terminology, see below).
*Note that if your child is still happily riding in a rear facing seat (extended rear facing), please keep doing so. I am not at all discouraging ERF'ing, as we all agree it's a best practice! In fact, the AAP recommends keeping children rear facing as long as possible.
Forward Facing Car Seats: Size and Weight
These forward facing car seats sit rather upright compared to convertibles and for this reason, fit very well into even the smallest of backseats.
While some of the less expensive ones are much more lightweight than their convertible car seat counterparts, the more expensive forward facing car seats are reinforced with steel and are heavier than you might expect.
If you're looking for an ultra-lightweight harness-to-booster for travel or for use as a spare, check out the Evenflo Maestro, which is all of 11 lbs. *Not the best for everyday use because the crappy LATCH connectors will drive you nuts.
"But I have a convertible seat with a high weight limit, do I have to switch to a forward facing seat?"

– Absolutely not, you can definitely keep using your normal convertible seat for as long as the weight and height limit allows, then purchase a BPB (aka high back booster) later, typically around 5-7 years of age.
There are three main reasons why people upgrade sooner than this:
1. The primary reason is because they want to pass down an older child's convertible seat to a younger child who is nearing her first birthday.

For example, let's say you have a three or four-year-old and an infant about to turn one. It makes MUCH more sense to pass the rear-facing convertible seat down to the infant and, if your older child is already facing forward, purchase one of these seats, which will take him through the end of his car seat years (9-12 years old or so, depending on your child's height). This seat will get your kid through the yellow and green stages (below).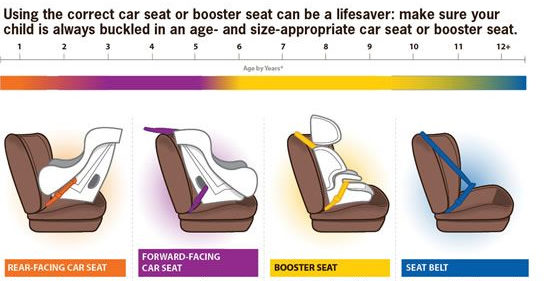 Put differently, it doesn't make any sense to buy another convertible seat for a child who is already forward facing because you will only be using that seat for the latter half of its usable life.
2. The second reason why parents buy a forward facing seat is because it sits more upright in the vehicle seat and looks more like a "big kid booster." Trust me, when you hit Pre-K, many kids are begging to ride in a booster. Forward facing car seats look like a booster, but still have a 5-point harness straps. Way to fool 'em!
3. Lastly, forward facing car seats, especially the higher-end ones, are very tall and will allow your child to be harnessed for longer than the average convertible seat.
Yes, I know the law in most states allows children who are four years old and 40 lbs to sit in a booster, and while it is legal, it is NOT a best practice (these are the same people who told us to turn our convertible seats around at one year old, so….yeah).
Read more about When to switch from a harness to a seat belt
There are four highly rated manufacturers of harness-to-booster combination seats: Evenflo, Graco, Chicco and Britax. Here are our favorites.
Best Forward Facing Car Seats – Summary
$ – Graco Tranzitions ⎯ $99 – Economy Pick

$$ – Graco Nautilus Snug Lock LX ⎯ $159-$199 – Great Value

$$ – $$$ Chicco MyFit, MyFit Zip and MyFit Zip Air ⎯ $199 – $299, Solid Pick

$$ – $$$ Britax Grow with You Seats (3 versions): $209 – $329

⎯ Grow With You (was the Pioneer) ⎯ $209
⎯ Grow With You ClickTight (was the Frontier) ⎯ $299 – Editor's Choice
⎯ Grow With You ClickTight Plus (was the Pinnacle) ⎯ $329

Best Forward-Facing Harness-to-Booster Seats
The Graco Tranzitions (also called the "Wayz" at Wal-Mart) is an easy, convenient, affordable seat and recently overtook the Evenflo Evolve as our new best forward facing economy seat.
A big selling point for the Tranzitions is how narrow it is, allowing for 3-across, if needed. This is great for people with smaller cars, and rivals similar higher-end seats whose selling point is 3-across. Though the seat is narrow, it still fits older/bigger kids quite well (unlike the Evolve, whose head cushions were too narrow and squeezy).

We also love the dual cup holders and no-rethread harness, which allows you to easily move the straps up and down without having to remove the seat. Mind you, this is still an economy seat, so it has no steel reinforcement like many of the seats listed below. However, this fact also makes it lighter in weight, which makes it easier to move from car to car.
The fabrics are slick, almost like a wetsuit, so it's fairly easy to clean. Just wipe it off with a sponge. If it needs more intense cleaning, you can easily remove it and throw it in the washer; just pop off the 2 sets of snaps and hooks. Please hang it to dry.
All in all, the Graco Tranzitions is an easy, affordable, narrow, well-liked seat with no complaints to speak of. This is where Graco excels.
The Evenflo Evolve 3-in-1 Combination Booster Seat is a decent economy seat with a few funky drawbacks, but we are loving the new, updated look!
This one from Walmart has "Sensor Safe Technology," which alerts the driver that the child has unbuckled the chest clip (yes, this happens!).
We like the e3 Side Impact Protection on some Evenflos, which coincidentally makes for a super cushy seat. The Evolve also has dual integrated cup-holders, a one-position recline, temperature regulating fabric, and even tiny buckle pockets (so convenient!) to hold your buckles to the side while your kiddo climbs into the seat (looove that!).
What we don't love: the standard "nail breaker" LATCH connectors. That means if you're using LATCH, this won't be the easiest seat to switch between cars frequently. But the biggest complaint about this seat is the GIANT head cushions (see below), which both impede your child's line of site (for those who like to see out) – or worse, squeeze your child's head because they are just so narrow. Users also complain that the back of the head cushion pushes their child's head forward too much. This is why this seat is no longer our top pick.
We also don't like them as much after the scandal at Evenflo, uncovered by journalists, whereby Evenflo's executives were purposefully marketing booster seats to children that were too young, knowing full well they were unsafe for toddlers as small as 30 lbs. Yes, people, ethics matter! Needless to say, I just don't trust them anymore. Meh.
New! The Nautilus is now available with SnugLock technology. "SnugLock" is a self-tightening mechanism — an easy way for you to install the seat with a seat belt without having to wrestle it in place to tighten it. It's basically a giant clasp for the seat belt. It's user-friendly — especially if you don't want to mess with LATCH — and also great for grandparents!
The Nautilus is Graco's higher end harnessed combination seat.
With the Nautilus, your child can stay harnessed forward-facing for up to 65 lbs (good for special needs kids), in a high back booster (for use with shoulder belt) up to 100 lbs, and in a backless booster up to 120 lbs. The Nautilus is steel reinforced, and it has an integrated cupholder and a storage compartment.
All Nautiluses (Nautilii?) feature a no-rethread harness (easy to adjust the height of the shoulder straps) AND a 3rd crotch buckle position to give more space for bigger-little boys to be… a little more comfy in that general area 😉 The Nautilii all have "fuss free harness storage", which are these little pockets where you put the buckle tongues to keep the harness straps out of the way when putting your kid in. LOVE THOSE!
The Nautilus can be found in different varieties – why do they have to make so many freaking versions? I do not know, but it's super annoying. I personally think if you are sold on the Nautilus, the LX model is just fine. Otherwise, just buy a nicer seat (don't put rims on a Honda Civic — know what I'm saying?).

* Switch to seat belt plus tether to install if child weighs more than 42 lbs.
For those who love their Chicco newborn and convertible seats, we've got good news: Chicco now makes a forward facing car seat! The Chicco MyFit fits kids from 25-100 lbs (up to 65 lbs in harness mode, and then up to 100 lbs in seat belt mode). It has a steel-reinforced frame with two layers of foam protection.
Generally speaking, the MyFit is tall and narrow, which means it can accommodate taller kids longer and fits well in smaller cars. They currently make 3 different models:
MyFit (regular) – $199 – The "regular" Chicco MyFit lacks the SuperCinch force-multiplying system on the LATCH strap but still offers premium push-on lower LATCH connectors
MyFit Zip – $249 – For $50 more, the Zip version gives you the "Zip and wash fabric," which is a very easy to remove cover that is machine washing/drying friendly.
MyFit Zip Air – $299 – It's not until you get into the "Zip Air" model that you get the coveted SuperCinch LATCH connectors, a mesh "3D Air" weave fabric, which keeps kids cooler in hot temps, and a kid's storage console.
All things considered, the Chicco MyFit is super parent-friendly and easy to use. It has a no-rethread design for easy height adjustments and the easiest ever premium LATCH connectors.
The seat is very well-padded for your kid's comfort, and it also has 4 recline positions- which is rare in a forward facing seat. It comes with two cupholders and a one-pull harness tightener for easy adjustments. As with Chicco's other seats, parents are really digging the Chicco MyFit.

4. Britax Harness-2-Booster Seats
Britax was one of the first to create the harness to booster seat concept. They used to have 3 different versions: the Pioneer, Frontier and Pinnacle. They have since been upgraded and replaced them with the Grow With You seat, which also has 3 different versions. They are:
If you struggle at all with car seat installation — either you don't like it or you're not good at it, I think the ClickTight feature is definitely worth it. Click Tight is just a super easy way of installing your seat with the seat belt, something you'll have to do anyway when your child hits 40 lbs (the LATCH connectors have a weight limit, did you know?).
—> Please see my demo of ClickTight.
Let's break down these three models ~
The regular Grow with You is the entry level combination seat from Britax. It's very similar to the entry level Chicco MyFit, but at this price point, I would go with the MyFit.

It serves kiddos up to 65 lbs and up to 58" tall in harness mode and up to 120 lbs in high back booster mode (note: it does not become a backless booster). It has the same side impact protection (2-layer) as the next higher up seat, the ClickTight, but lacks the ClickTight feature (that's why it's cheaper).

All of these Britax seats have a no-rethread harness and we love Britax LATCH connectors, even on this model. Construction-wise, you get the impact-absorbing base and steel frame that you get in all Britax seats (thus, these seats are heavy!!). You also get cupholders, an easy to remove cover and plush foam padding.
That said, there are complaints about the headrest area being flimsy and squeaky (the sound styrofoam makes when you rub it against something) – ack! Might be a deal breaker for me.
Another complaint people have is that they can't get a very tight seatbelt installation for whatever reason. Also, the fabrics on this model are not machine washable. Given the complaints with this entry level model, I would either go with the Chicco Myfit – or our top pick, the Grow with You ClickTight….
*Switch to seatbelt and top tether installation once your child hits 40 lbs.
The ClickTight and ClickTight+ are next up the Britax food chain. Unlike the entry model, people are VERY happy with the ClickTight version, which makes it our luxury pick. Yes, I love this seat so much. It is so satisfying to close the trap door down onto the seat belt (the ClickTight feature) and have it lock into place so. damn. tight.
Compared to the Chicco seats, the Chicco MyFit Zip Air gives you a narrower seat with easy to remove (and highly washable) covers, but lacks the easy seatbelt installation mechanism you get with Grow with You ClickTight (did I mention I love the ClickTight?).
The ClickTight version comes it 6 sporty "heathered" colors that are tailor-made with 4-way stretch — to resemble athleisure fabric.
Here is the ClickTight feature, demonstrated below:
The big difference in the ClickTight and the ClickTight Plus is two things: the Plus gives you a SafeWash™ cover, which is made from a naturally flame retardant knit construction, which is also approved to machine wash and dry again and again (you can really abuse it, LOL). The "Plus" also has these crazy huge external cushions (above). These side-impact bolsters make this seat very w-i-d-e, but it's a great seat if you use it in the outboard (i.e., side) position and want the maximum amount of side impact protection.
Again, this seat is very wide (did I mention that?) and will make space tight in the back for other passengers and other car seats (only have one kid back there – or a giant minivan? Perfect!).

If you don't have space for a super-wide seat and typically use a seatbelt for installation (which you'll have to do anyway once your child hits 40 lbs), the ClickTight is the one for you. In fact, the Grow with You ClickTight is the highest rated seat of all the ones reviewed here.
---
That's it, folks. I hope you found a forward facing seat that will last you through the long haul.
Thanks for reading and good luck! — Meg