Holding your newborn is great and all, but you simply can't do it 24/7. You must put him down at some point to pee, dry your hair, chop some garlic, or upload a pic to Instagram (helllllooo).
This is one of those things you don't really think about before your baby comes, but it's soooo important. I recommend you have this from Day One.
When it comes to these "baby containment devices" [snort], there are many options…
There are seats that sit directly on the floor, which is a traditional baby bouncer seat. There are baby swings, which are self standing swings that hang by a frame and plug in to the wall to swing indefinitely. There are also items that combine two or more of these, so…. here goes.
Starting with the basics…
Top Infant Bouncer Reviews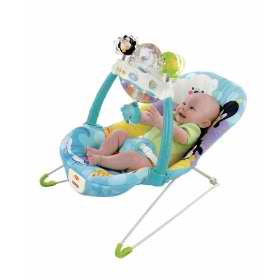 As a new mom, I thought a baby bouncer was a swing that hangs from a door frame while the baby bounces off the floor (which is actually a "jumper"). But actually, a baby bouncer is just a seat for an infant who can't sit up. It looks something like that <—
From 0 – 6 months, a place to stash your baby is a must-have. And, by the way, most of them don't actually "bounce", per se, but most of them have some kind of automatic feature for vibrating, making sounds and playing music, so stock up on DD batteries; they get used up fast! If you're looking for something that is electric and will run indefinitely, check out the next page on baby swings.
When compared to swings, baby bouncers are very portable and can be easily carried from room to room, whereas swings are/do not.
What's the best baby bouncer? It kinda depends on what you're looking for. Stay with me…
Automatic and Vibrating Bouncers
For a simple, inexpensive bouncer that does cool stuff, look no further than ~
There's no need to pay $75 for a simple, portable bouncer (unless you really want to). The best regular 'ol economy bouncer is the Bright Starts Baby Bouncer.
This highly-rated bouncer is inexpensive, lightweight (read: easy to move from room to room), non-ugly, and gets the job done. Reviewers love that baby feels cozy and snug, while his own movements jiggle the bouncer. For extra stimulation, you can turn on calming vibrations, and baby can kick and bat at the toys on the removable toy bar.
Also in the "wow, that's cheap!" category is this rocker seat. This particular contraption grows with your child, meaning you can continue to use it into the toddler years (huge bonus, as most of these seats are only meant to be used for 0-6 months).
This Infant to Toddler Rocker has three positions: bouncing (babies), rocking (babies), and stationary seat (toddlers).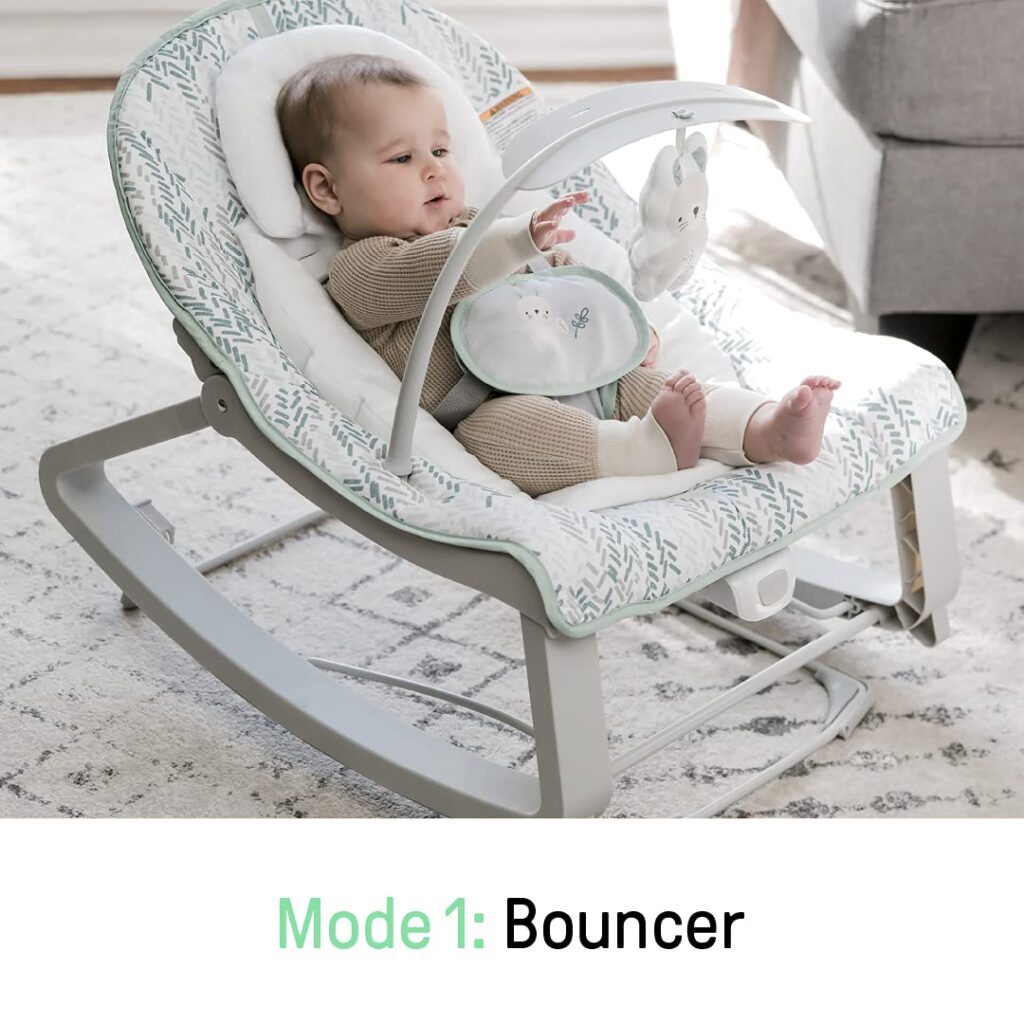 Fancy Bouncers for Newborns up to 6 Months
If you're looking for a high quality baby bouncer (one that can be used for several kiddos) — or if you have a rich Aunt who will buy it from your registry — there are some higher-end bouncers out there that are well-liked… and great looking. These are all in the $200 territory.
Contrary to what you might think from the price tag, these upscale bouncers don't have any automatic features (because, you know, they are refined and sophisticated and all that 😉).
Here are reviews for the three that we recommend:
Say that 3 times fast.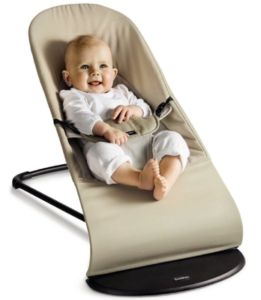 The beloved Balance is a staple in many households. This bouncer (of sorts) is a beautiful and safe space for a fussy baby. No batteries are needed for this sucker (yay!), because your baby learns how to make it rock using her own movements. Some people call this a "standing bouncer" because it's more upright.
There are four settings on this one: upright, fully reclined, partially reclined, and folded down. The fold-flat means it's pretty portable and easy to take along on trips and such. Again, people are nuts over this one; it's very highly rated.
Bloom makes a couple different loungers that are pretty rad. Our favorite, the "Go 3-in-1 bouncer" is a rocker, lounger, and fixed seat – all in one. Best part is, it folds up super slim, so you can take it on the go.
Here's the thing, though… while users love the mid-century modern look of this guy (and enjoy the high-quality construction)… babies may prefer other options that battery-operated swings can offer, like sounds and vibrations. Said one mom, "so far, this lounger has very limited usage for us. We use it for 15 minute increments to keep him occupied while we get ready in the morning."
The sleek Nuna Leaf Grow is unique in that it can be used from infancy to preschool and beyond (up to 132 lbs!). Yes, they even have a GIANT adult version we get to play with at every baby show. We love it because it looks more like modern furniture than a piece of baby gear. It comes in modern, soft neutrals that go with anything, as opposed to the cheaper brands which look like something out of Elmo's world.
Without batteries, cords, or any noise to speak of, this seat is perfect for your little one to nap/chill when it's time to rest or wait for mom to GSD (get stuff done). The organic cotton insert is soft, and the motion of the Leaf Grow continues for about two minutes unassisted with a mere push. If you have the money, you gonna love the Leaf Grow.
---
Stay with me, people —