Booster Seats for the Table
At some point, every preschooler lets their parent know that they are way too cool to eat their meals in "baby chairs," and that they want — nay, need — a booster seat for the table. Like big kids.
Listen up: there are a ton of booster seats for toddlers and preschoolers out there (enough to make your head spin). Don't get lost in the thicket — we've chosen a few of our favorites that are simple to use, portable, and easy to clean. Here they are, in order of price (from lowest to highest):
Chicco Pocket Snack Booster Seat ~$29 — Best for Younger Toddlers

Prince Lionheart Soft Booster Seat ~$36 — Best for Older Toddlers/Preschoolers

Ingenuity Smartclean Toddler Booster ~$39 — Editor's Choice (Tie)

Bumbo Toddler Booster Seat ~$44 — Editor's Choice (Tie)
Before we dig in, a brief aside…
The Booster Alternative: A Kids Chair
If you don't want a booster, or if you have bench seating, a separate option entirely that many families *love is to get a chair specifically designed for littles. These have a taller/higher seat and are tapered, so they are very solid.
This option typically doesn't offer any harness seating, so it's best for older toddlers who can sit on their own; on the plus side, without any harness or cushions they are much easier to clean. And, these have footrests, which is really an underrated/overlooked feature, because many kids who sit in boosters don't really know what to do with their feet (where do they go??).
The creme de la creme in this department is the Stokke Tripp Trapp (see below) — but at $200, it can be a tough pill to swallow. (If you can swing it, most folks say it's worth it, as you'll use it well into childhood.)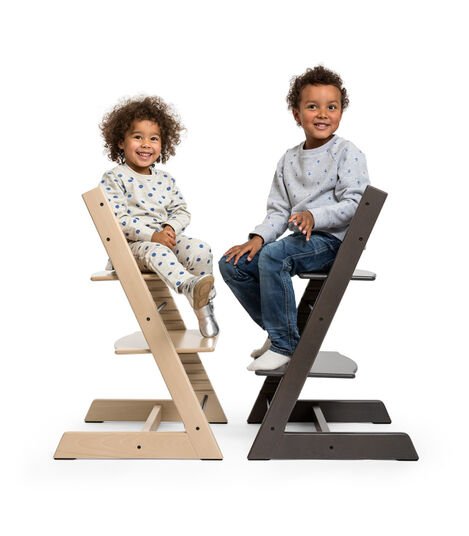 On the other end of the pricing scale, an affordable and beloved option are the junior chairs from IKEA, such as the Agam ($54) and the Ingolf ($69), pictured below.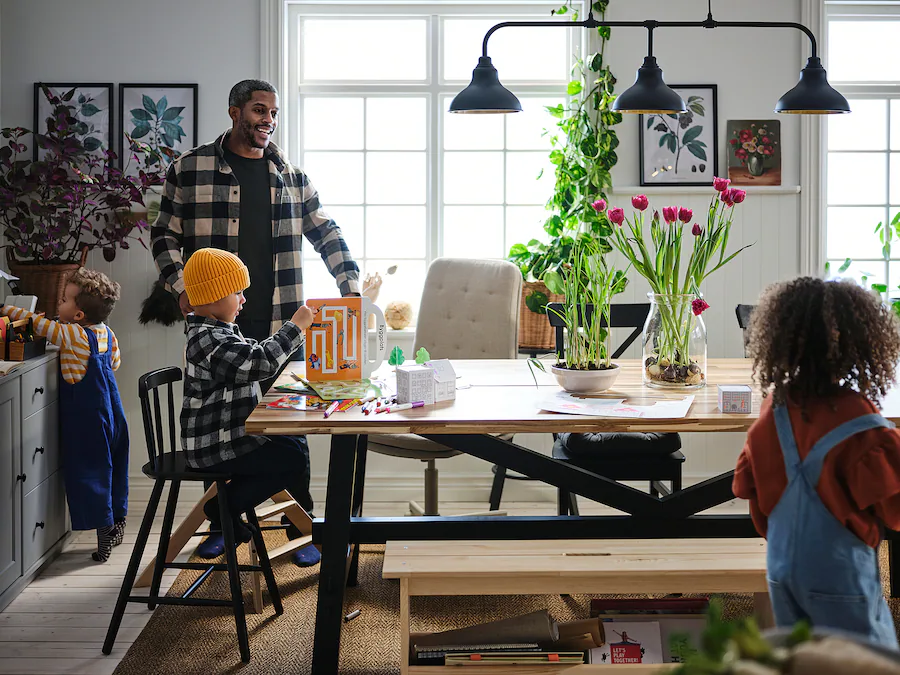 If you like the idea of a pull-up chair but don't have room for one, you could also try the KABOOST Portable Chair Booster ($49, below). This rubberized contraption affixes to your chair's legs for a lift from below (you can set it to 3.7 or 4.5 inches). If you go this route, know that the manufacturer recommends using felt furniture pads on the base so that you can scoot the chair in/out from the table without having to lift it up entirely.
Okay — on to the main event:
Best Booster Seats for the Table
If you'd like something with a little more back support and a little more lift, we like the Chicco pocket snack booster.
The adjustable stand on the bottom offers six inches of extra height (or it can be folded up for a flat seat). The whole thing secures firmly to the chair with straps under the bottom and around the back and has a three-point harness to keep little ones planted. It collapses flat for portability and also has a removable tray.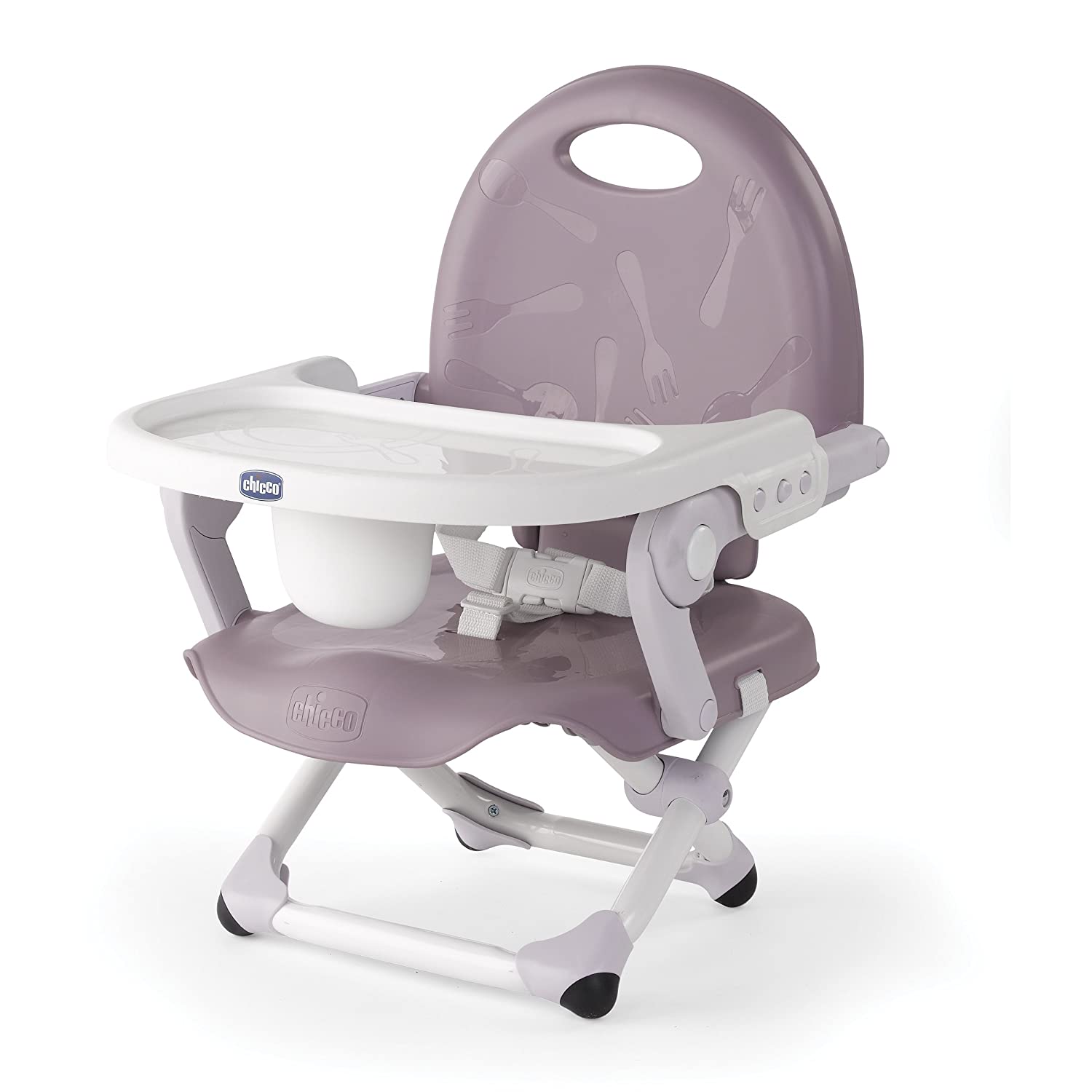 The Prince Lionheart booster seat has a very simple design that provides your kiddo with a 3-inch boost. While it doesn't have straps to attach it to the chair (or to keep your kid strapped into the seat), its textured bottom keeps it from slipping around while in use. This ultra-simple booster is waterproof, easy to clean, lightweight, and very well reviewed.
Better for slightly older kids, given the lack of a harness.

If you definitely need straps, Prince Lionheart also makes a booster with a harness.
It's low-profile, easy to wipe clean, and durable.

This popular seat is one of our favorites. It can boost your child either two inches (without the foam insert) or four inches (with the insert), so you'll get years of use out of it. This table booster seat comes with straps that attach the seat securely to your chair and a removable 3-point harness to keep your wiggliest toddler in place.
We love that it's dishwasher safe, and the neutral slate color will go with just about any kitchen decor. Not to mention, it's also lightweight and easily portable for family dining excursions.

Similar to the Ingenuity Smartclean, the Bumbo booster seat (which Meg and Melissa own and recommend) attaches to your dining chair with adjustable straps. It features a (non-removable) three-point harness to keep your child nice and safe. Easy to clean and transport—if you're looking for a booster seat with a harness, you really can't go wrong with the Bumbo.

Enjoy!
---