Ahhhh, bath time — our favourite time of the day (My inner voice is British, what can I say…)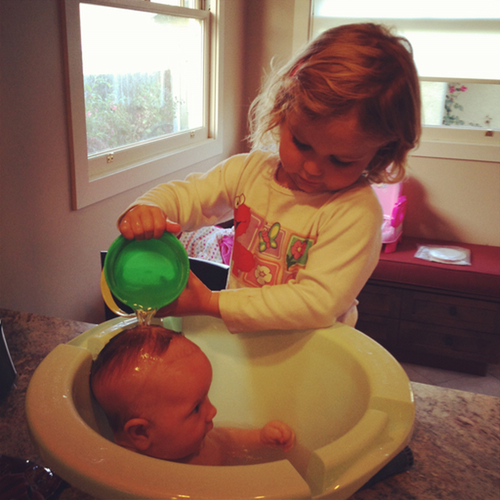 The frequency of bathing babies varies greatly from parent to parent: some do it every day and some do it once a week (yikes).
The truth is, babies aren't exactly rolling around in the dirt or getting sweaty at the gym, so you don't need to bathe them every day. That said, however, they do get pretty gross from daily grime (spit up, errant milk, and the occasional blowout).
Trying to bathe a newborn baby in the kitchen sink is kind of a joke; it's like trying to grab a greased watermelon in the deep-end on the 4th of July. Also, baby poop and preparing dinner in the same general area? It's a no for most (and shockingly reminiscent of a certain Seinfeld episode…).
Thus [clears throat], you really do need a baby bathtub because babies cannot sit up (or control any part of their body, for that matter) for many months.
There are a couple of neat little "newborn tubs" that are just for young babies (0-6 months) – or you can skip directly to a regular infant tub, which will also accommodate newborns.
The advantage to newborn tubs is that you can use *most of them* in the sink and other such easy to reach places (countertop, etc.), whereas regular infant tubs need to go in the bathtub, where you will (inevitably) be down on your knees.
For the 0-6 month crowd, you can get a newborn bathtub or "support" that's a bit smaller, easier to store and easier to move around.
Newborn Bathtubs and "Supports" for 0-6 Months
These items are "bath supports." You can't fill them with water; they're more for sponge baths in a sink, with water underneath (or not). You feel me?
I (Melissa) used this seat for travel and because it folds up compactly, I left it at grandma's house.
This is a VERY highly rated, affordable seat that's made of soft, mildew-resistant mesh material. This one goes into the bathtub (you'll have to bend over…) or a large sink. It also hangs up for convenient storage, unlike the larger infant tubs that take up lots of space.
It's quite multi-functional and can also be used in your bathroom as a place to put baby so you can use the potty. People have said they even bring it to the beach so baby can hang out in the shade (I would have never thought of that). It's very easy to wash it down.
It's very comfortable for baby and they don't slip around (more highly-rated than the Puj Tub). You can even keep the water running for warmth. Works best in divided sinks vs. farm style, but it can work lying flat as well.
The Puj Tub is a cult favorite. Its sister product, the Puj Flyte is our reco for travel. Both fold compactly, are mold and mildew resistant and hang flat to dry. A great investment piece!
Newborn Bucket Tubs
Babies LOVE being in a bucket; it makes them feel very contained. The only downside to these buckets is that it's a bit difficult to access and clean your baby's [ahem] nether-regions.
I (Meg) used a tub downstairs when Alice was born because I could fill it up in the kitchen sink and bathe her on the counter. I also liked taking it outside for a little summertime alfresco bathing.
---
If you're looking for a single tub that will handle newborns through 12 months or so, you're in the right spot.
Our Favorite Infant Bathtubs for 0-12 Months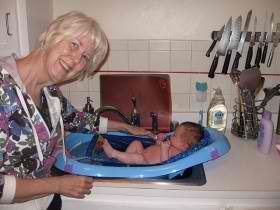 For something you can use longer than a newborn tub, I recommend the quintessential "blue tub." There is absolutely no reason to spend any more money than this on an infant bathtub, I promise.
This tub can be used throughout all stages of infancy: newborns go in the newborn sling, which little Lucie is pictured in, (above, left; yes, I recommend the incredibly sharp knives overhead as well) (kidding).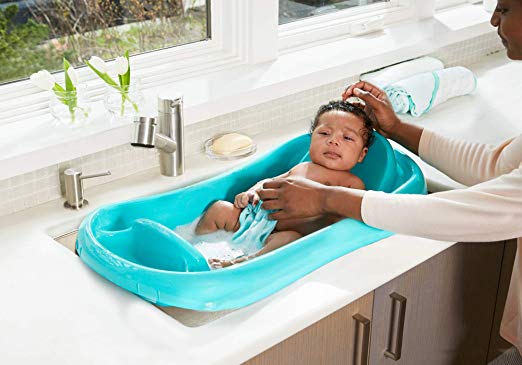 Three to six-month-olds can use it in the reclined position (with newborn sling removed), and "sitters" (6+ months) can use the tub sitting upright (with "hump" removed). You may also be able to cram this into a larger kitchen sink if the geometry is right, but no guarantees.
If blue plastic isn't what you have in mind [snort], check out the stylish Boon Soak, which is a better looking three-stage tub. Bonus: this tub should fit in most double sinks.
For the end of the first year and for travel… I (Meg) enjoyed this tub so much on our trips that I started using it as my main infant bathtub because it's larger, way more fun and hey, it quacks like a duck (endlessss entertainment)! This is for a baby 6+ months who can sit unassisted. Best 11 bucks you'll ever spend, y'all 😉
---
12 Months+ Toddler Tubs
Once your baby is old enough to go right into the regular tub, you'll probably want to invest in a non-slip bathtub mat. Here are some options that actually work:
Secured in place by suction cups, this mat has drain holes and hangs to dry over the showerhead. Some reviewers noted that it didn't work well on textured tubs.
Measurement: 15.8″ x 36.5″
An alternative to a full mat and a product that works on lightly textured tubs, these treads stick by a waterproof adhesive and stay so well that you can clean right over them. The treads can be removed cleanly without damaging your tub, just know they are designed for one-time use.
Measurement: 6″ diameter
A Lucie's List reader recommendation, this mat is also highly-rated! You guys, you can clean this mat in the dishwasher (mind blown!). It's heavier and thicker than other mats and has many suction cups.
Measurement: 31.5″ x 15.75″
Moving right along…