Congrats, parents. You've made it so far! Can you believe your little one is getting ready to start solids? They grow up so fast [wipes tear].
Before you dive into this next chapter, you'll probably want to get the best high chair and some other basic feeding supplies. There used to be two types of high chairs — one that stands on its own and another that sits on top of an existing dining chair — but now there's also a third category that stands alone and converts to a toddler/kid chair. This latter group is more expensive, but will last for years to come.
*Whichever kind of chair you choose, one thing to look out for is the footrest situation — meaning, you want to consider where baby will put her feet. Without any sort of footrest or solid space to plant their feet, babies can struggle to sit upright/well to eat. (If you don't believe me, let me ask you… have you ever tried to eat while sitting at a bar stool without a footrest? I'll tell you: it's the worst.
Stand-Alone High Chairs
A stand-alone is great if you have the space for an extra high chair in your kitchen or dining room. You can easily move it around, even from room to room. Also, you don't have to worry about damaging or staining your existing chairs, especially if your chairs are upholstered.
Or white.
Or upholstered in white.
Anywho, here are the best stand-alone high chairs in each price category:
Ikea ANTILOP ~$24 (say what?) — Economy Pick
Yeah, yeah, I know what you're thinking: twenty-five dollars for a high chair? Must be pretty crappy. Actually… not really. This chair is pretty awesome!
Pop the legs off this chair and it comes apart very easily for storage or for taking along on a trip (see below), and best of all, there is NO fabric anywhere on this high chair, which makes it so very easy to clean (why can't anyone else figure that out?). In fact, many parents have ditched their expensive, full-featured, pain-in-the-rear-to-clean chairs for this one.
This chair is also perfect for grandma's house or some other place you need a spare. See it in action here.
At $24, this chair is a best buy. Don't ask me how these people make money. Like "where does their sausage come from?" I don't think I want to know…
A swing-open tray, you guys. Finally, someone did it!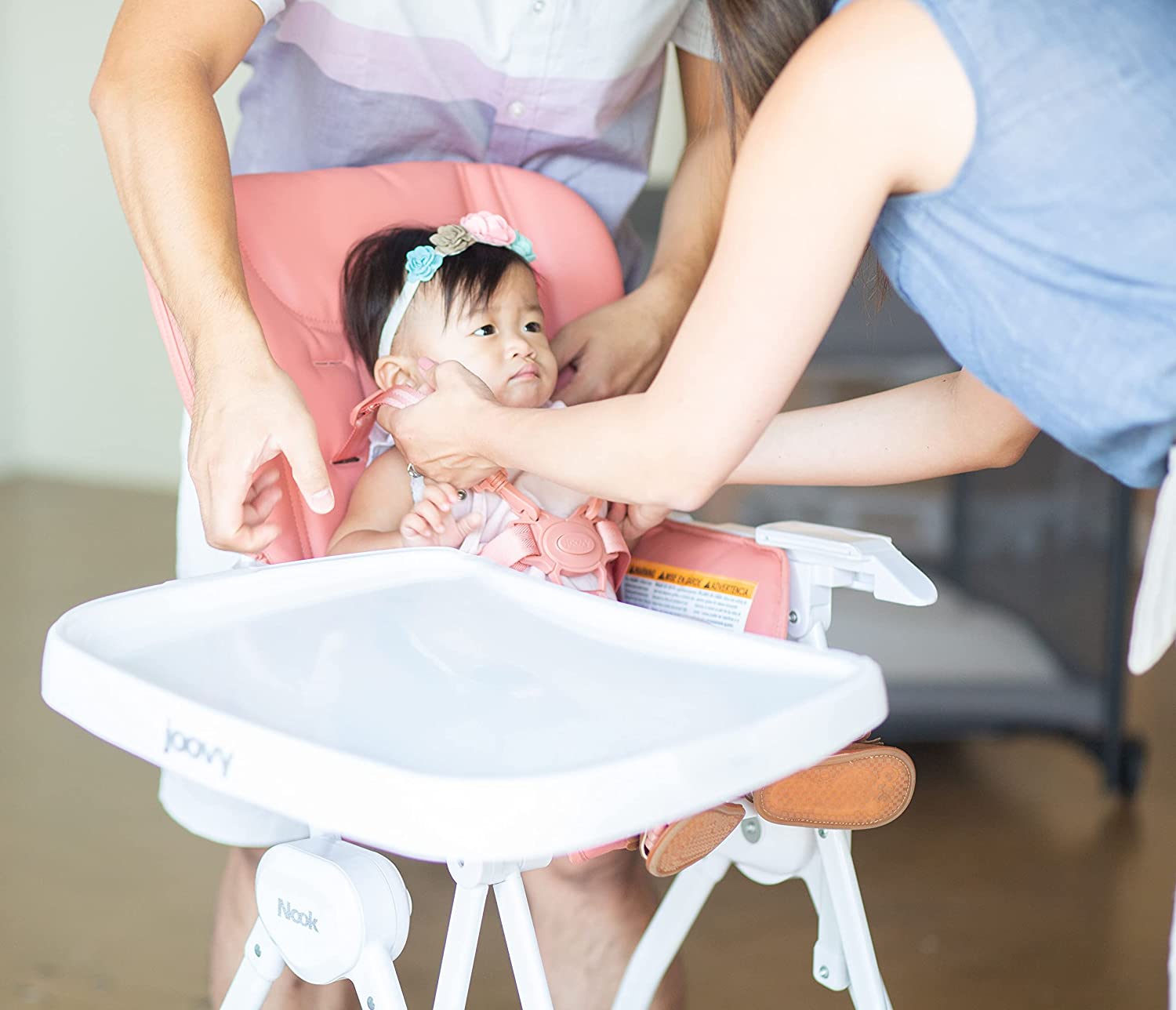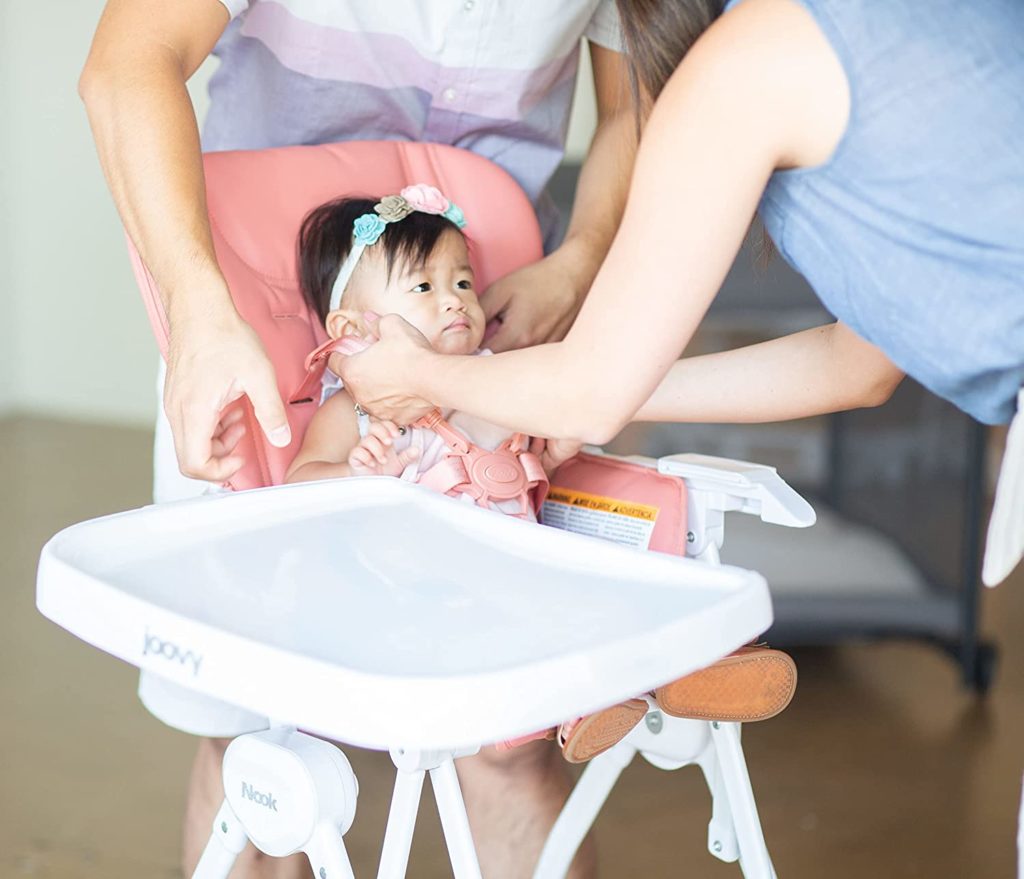 The tray on the Nook is all kinds of fancy, as it also adjusts front to back to minimize the size of the food crevasse (you know, that space between tray and tot that food inevitably falls into) as your kiddo grows. Other perks of the Nook are that it comes assembled right out of the box (yay), the pop-off tray cover is dishwasher-safe, and it has a super compact fold. On the downside, since this chair has a fabric cover, there are a lot of complaints about how difficult it can be to clean. *Also note that this chair has a slight recline and will not sit upright at exactly 90 degrees.
*Another well-liked stand-alone with similar features is the Chicco Polly
This neat, grow-with-baby system offers *simultaneous seating for two children of different ages, so it's ideal if you're planning on getting knocked up again anytime soon (hah!). The Blossom can be used as a regular high chair, an infant booster, a toddler booster, and a child seat (click here or see below to see what I mean).
We have the Graco Blossom chair at home and have enjoyed using it in all configurations, especially when we have guests. I also like that I can easily wheel it from room to room as needed. This is a great, full-featured high chair that grows with your family. *This chair does not fold, but it does recline. Therefore, it can be used for younger infants who don't yet have tummy control.
Lalo's The Chair is a modern-looking high chair that checks many boxes: it's easy to assemble and store, easy to clean, and it will last through several stages (not just babyhood).
Although it has a wide base (read: big footprint) and it's not super compact, we like that you have the option to purchase the full kit to transform the Lalo to a kid-sized play chair down the road. (The full kit is $225, while the high chair alone retails for $175.)
On the plus side, this is a very sturdy, well-made chair that you can expect to go the distance. There aren't many bells and whistles, but in this case, less is more. The Chair does sit at a slight recline, so that's something to note, and although you can pull off the tray and sidle the chair up at the dining room table, between the recline and the belly bar, it's not necessarily super easy for babies (especially younger babies) to actually eat from the table. Comes in a selection of muted color tones.
---
Convertible High Chairs
The new kids on the block here are high chairs that function as stand-alone high chairs but also convert to "table high chairs" for older babies, toddlers, and young children. These have a higher price tag, but they are *well worth it if you can afford the cost because they will save you the hassle of having to purchase a separate booster seat for the dining table down the road. (For reference, many kids need a boost at the table well into elementary school — so this is something where you can really expect to get some longevity from your purchase.) Convertible high chairs are also recommended by feeding experts because they allow children — including babies — to sit at the table with the family.
Our top picks in this category are all *very high-quality and really will stand the test of time.
Never mind that the straps remind me of an electric chair (creepy), the Tripp Trapp by Stokke is a true classic and an all-time parent favorite.
This high chair is designed to be pulled right up to the table, so your child can sit and eat with everybody else. (Although you can opt to buy it with a separate tray.) The signature footrest is infinitely adjustable and designed to grow with your child (see below). Later, the footrest acts like a ladder, allowing your child to seat herself on her own. This is so convenient and wonderful.
Furthermore, once your child is finished using the high chair, the whole thing can be converted to a stool or an adult chair. We know, the Stokke is pricier than most, but you'll use it for MUCH longer. They also hold their resale value very well, as you will notice on Craigslist.
The Tripp Trapp is made from beechwood and comes varnished in a rainbow of colors – or just classic wood. Note again: you can purchase a tray separately and now a newborn set for the 0-6 month crowd.
This high chair from one of our all-time favorite baby gear brands is functional and long-lasting. It's a bit boxy-looking, but still more "adult-looking" looking than your standard Fisher Price aesthetic…
The ZAAZ is super easy to clean: not only is the tray detachable, but the chair also doesn't have any fabric, so all you have to do is wipe it clean. It's also easy to adjust for your child and eventually transform into a chair for older kiddos. It will be with you for the long haul. (Note the seat-tray gap on this one is relatively large/wide.)
---
Space Saver Chairs
The space saver or sit-on-top chair is a good choice if you can sacrifice an existing chair or if you don't want a big 'ol honkin high chair taking up space in your kitchen. These also tend to be collapsible and portable, so you can easily take them from place to place.
If you're looking for a basic space saver high chair/booster, look no further.
This seat easily attaches to almost any dining chair. And when babe gets older and is ready to sit at the table, simply remove the back and it converts to a regular booster seat. Easy!
---
There you have it, the best of the best in high chairs. Good luck!