Traveling Without Baby – Maintaining Your Supply When You're Away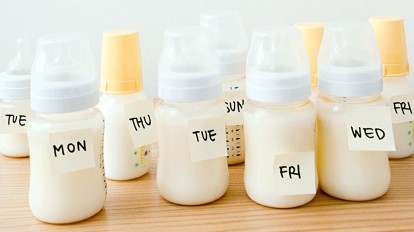 Top Answers:
Bring a single hand-held pump (I have the Medela Harmony) that you can throw in your purse so you're able to pump on the plane & in a pinch, if necessary. We went overseas for a week when our first was not quite 4 months old, and the Medela Harmony was a lifesaver. (I also brought my Medela Pump in Style, but it fried when I plugged it in — YES, with an adapter/converter  (Editor's Note <—- OMG!) — and I had to scramble to find and purchase a new electric double pump!! Of course, I couldn't find anything Medela and had to purchase a Swedish model… which I now use for our 4-month-old… with an adapter/converter, haha.) So expect the unexpected, and bring along a back-up for peace of mind! Have fun!

Libby Randahl Hatcher
I traveled to Belgium for 5 days for business recently, leaving my EBF 4-month-old home with daddy. It is doable! In the end, she consumed about 150 oz of refrigerated and frozen milk and I brought back 207 oz I pumped and froze while there. I filled up bags each day and added them to the freezer. (Prearranged with the hotel to use their freezer.) I also used Techni Ice for the trip home – it was all packed in a soft cooler in my checked bag and stayed frozen during the 12-hour journey. We aren't to 10 months yet, but on KellyMom I read that consumption of BM doesn't really increase. Good luck!!

Melissa Weigand
I went to the British Virgin Islands when my son was 8 months old and left him at home because we were on sailing catamarans for 10 days (not exactly safe for a baby). I pumped in the handicap stall at both airports and once on the plane. I was strict about pumping every 3 hours and just dumped everything (no refrigeration). I came back with a full supply and great tan!

Lindsay Henry
I did a 5-day trip when my babe was 6 months. I think a 10 month old would be easier because they are eating so much more solids by that point, so the BM is a little less essential (at 10 months, my babe was nursing 4x/day… only 3-4 oz when it was from a bottle). I saved up BM for about 3 months beforehand- pumping most mornings and then I often pumped more than babe would consume at the sitter, so I had extra. I took a double electric pump with batteries and a handheld manual pump as well. I tried to follow our schedule, but I had to be flexible. Pumping on the plane worked great and I would try to pump whenever we were in a car. I froze the milk in flat bags at the hotel and then packed it in an insulated bag with ice packs for the flight home. I carried on and had a little trouble with the Mexican TSA, but we made it through. Check it if you can, but it is heavy! My supply definitely diminished, but nursing a lot when I got home seemed to bring it back up without too much of a problem. It was great to have that large supply of frozen BM for the next several months!

Amber Spackman Jones
I wrote an entire post about this on my blog!!! You can find my tips from traveling to Israel without my 6-month-old and how I kept my supply up!!! You can find it here. Hope it helps!! Good luck, safe travels, and of course have fun!!!!

Skye McLain
My doc said no less than 24 oz per day for that age. Keep your pump bag organized. I kept 2 plastic bags: one for clean pump parts and one for dirty, so I didn't have to clean stuff in public restrooms. Get extra pump parts, hand sanitizer, and nipple cream. I also packed about 20 of the extra large ziplock bags, so when I traveled back I could fill each one up with as many bags of milk as possible to bring back. The ziplock bags also give you added protection for leaking. Good luck, Momma; you can do it!

Lisa Heimowski Weilgus
Good tips from everyone. One thing that worked for me was buying 32 oz Nalgene bottles and I just filled them up with milk (just make sure to cool the pumped milk first before adding to the refrigerated Nalgene bottles). I found them much easier to travel with than carrying a lot of milk bags. Also call ahead to your hotels to make sure you'll have a mini fridge or freezer. Enjoy!

Gisela Mohring Vivero
See all the answers here.
---