What is a Montessori Bookshelf?
A Montessori bookshelf is like the superhero of shelves, made specifically for Montessori homes, playrooms, and preschools. Whether it's at home, in a playful room, or a preschool, this specially designed book shelf champions independence and sparks a thirst for knowledge in youngsters. It promotes ultimate confidence and learning skills in kids. We like to think of it as a pivotal piece of furniture that grants instant access to books helping to spark their love for reading right from the get-go.
Favorite Montessori Shelves
Are you looking for some top-notch Montessori bookshelf options? We've done all the legwork to find you the absolute best models out there.
Having a dedicated Montessori shelf is a total game-changer, even if you already have shelves for your little one's toys. It helps them understand the distinction between a playtime Montessori toy shelf and reading, which is all about gaining knowledge. Two shelves for two different purposes – genius!
Montessori furniture is the best when it comes to pint-sized furnishings. They're all about empowering your kiddo to be independent and take charge of their own space. Many of these fantastic pieces are even height-adjustable to keep up with your child's growth spurts and cater to their unique needs and preferences. Montessori play is a great way to improve confidence and self assurance.
What Makes a Book Shelf a "Montessori Style"
The burning question that first popped into my head was, what sets these shelves apart from the same old boring shelves? The answer is crystal clear – it's all about accessibility! These game-changing shelves are designed to be low so that even a tiny tot can reach every nook and cranny. No doors are included to avoid any painful finger pinching and to make access a breeze.
Better Visibility
Another crucial aspect of Montessori bookshelves is visibility. Unlike us grown-ups who judge a book by its spine, kids judge solely by the cover. That's why there's plenty of space between each book, allowing them to easily pick out their favorite reads (which means, sorry to burst your bubble, those adorable reading corners aren't really Montessori-approved).
Front Facing
Front-facing bookshelves do wonders for kids! They give the little ones a sneak peek at the fabulous contents and eye-catching covers of books, making them irresistibly appealing. And wait, there's more! These shelves also make life easier for parents by keeping tabs on what books are currently out, allowing for effortless rotation. How amazing is that?
Montessori bookshelves have taken households worldwide by storm. But what sets these beauties apart from your run-of-the-mill shelves was the burning question in my mind.
What is the purpose of a Montessori bookshelf?
Providing easy accessibility
One of the main purposes of a Montessori shelf is to provide easy accessibility to books for children. The shelving unit is short enough for even little tykes to reach and pick out their own books without needing help. This shelf helps them be independent and motivates them to look through and choose books that they like. By nature, kids are drawn to the colorful front of books. They are more exciting and enticing than reading a title off a thin spine, which is how those old-school bookshelves usually show off their collection. Montessori book shelves make it easier for kids to see what's on the cover of the books and immediately inside of books, which promotes their interest in reading them.
Encouraging independence
A Montessori bookshelf encourages independence by allowing children to take responsibility for their own learning. By having access to a variety of books, children can choose what they want to read and when they want to read. This fosters a sense of autonomy and self-confidence in their decision-making abilities.
The low height of the shelf allows even toddlers to reach and choose their own books without assistance. This promotes independence and encourages children to explore and select books according to their interests and make their own choices.
Promoting organization
Another important purpose of a Montessori display shelf is to promote organization skills in children. With the open shelves and clear display, children can easily see and return books to their designated spaces. This helps them develop important skills such as sorting, categorizing, and tidying up after themselves.
It also helps moms and dads stay on top of their kiddos' book collection, making it a breeze to switch them up and keep track of things like reading habits, reading level and overall child interests.
Other Important Details About Great Montessori Bookshelf Options:
They can grow with your child
The shelves are low to the ground
Many can be wall-mounted
They often have hidden storage
They make great reading nooks

How to choose the best Montessori bookshelf?
Consider the size and space
When choosing a Montessori bookshelf, it is important to consider the size and space available in your home or playroom. Measure the area where you plan to place the book shelf to ensure that it fits correctly and does not obstruct the flow of movement in the room. Additionally, consider the number of books you want to display and make sure the shelf has enough storage capacity.
Look for durability
Since a Montessori book display is intended for young children, it is important to choose a shelf that is sturdy and durable. Look for a shelving unit made from high-quality materials such as solid wood or natural birch plywood, which can withstand daily use and last for many years. If you want to go with a less expensive option consider a good quality, sturdy MDF.
Choose a shelf with front-facing display
Forward-facing display is a prominent characteristic feature of a Montessori book shelf. This means that the books are displayed with their covers facing forward, making it easier for children to see and select the books they want to read. This encourages independent decision-making and promotes a visual connection with the stories and a wider selection of books.
What are some popular Montessori bookshelves available?
For those of your reading this article looking for a Montessori bookshelf, we've put together the most comprehensive list to fit your budget, aesthetic, size, kid's needs and more.
We love the Tidy Books Montessori Bookshelf because of the alphabet on the front, the fact that these have been handmade for over 20 years and made from quality materials. Built with strict safety testing in mind by a former violin maker, these adorable book shelves are sure to be used and loved for many years to come. With almost a full 5 stars, multiple color options and prime delivery, the Tidy Books Montessori Book Shelf is a great choice.
The mix of wood and white makes this the perfect Montessori shelf for those with a classic modern aesthetic. We love the low profile of the Avery making it perfect for even the youngest readers. Since it's part of the "Avery" collection at PBK you can buy the entire set or mix and match pieces easily. It's on the smaller side compared to other Montessori book units making it great for smaller spaces.
The ECR4Kids Birch Bookcase is a popular choice for Montessori bookshelves on Amazon. It is made from sturdy baltic birch wood and has multiple shelves for organizing books. The front-facing display and low height make it accessible for young children, holding 5 tiers of books. It comes in 3 colors and even has storage in the back to help maximize space and storage.
We love that this Montessori style book shelf has space for 3 storage cubes. Featuring a white painted finish and 4 shelves to display books it's on the larger side of most store bought Montessori bookshelves. It can be purchased at Target online and ships right to your home.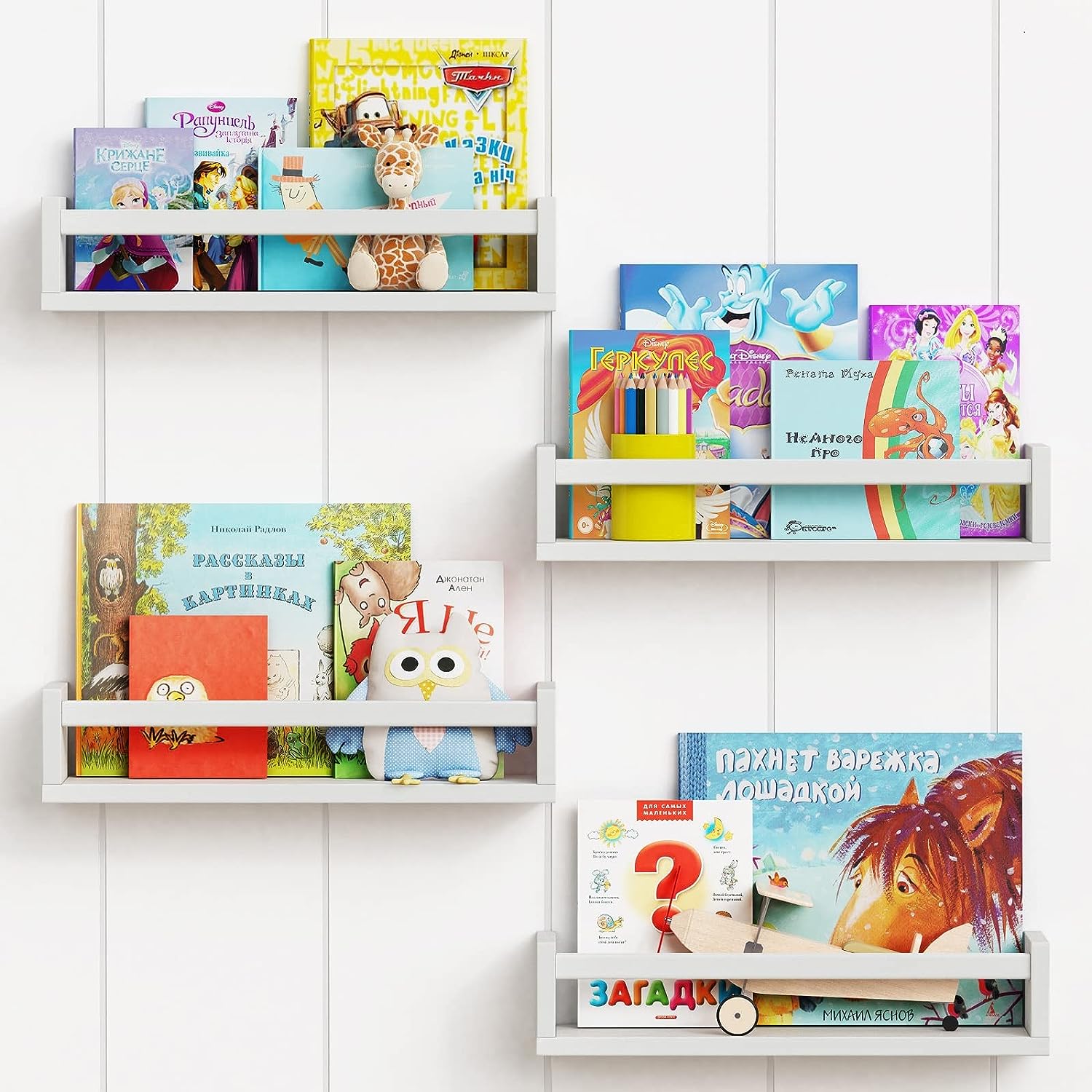 If you're looking to save space, a Montessori Wall Bookshelf is a fantastic choice. It can be mounted on the wall at a suitable height for children and offers a great option for displaying books while keeping the floor clear for other activities. The Forbena shelf is an Amazon choice with almost a full 5 stars. It comes with 4 shelves made of sturdy pine wood, two different sizes and 4 popular colors including white, navy, pink and natural wood.
How to organize a Montessori bookshelf?
Use storage bins or baskets
To keep your Montessori bookshelf organized, consider using storage bins or baskets. These can be placed on the shelves to group books by theme, author, or level of difficulty. The bins or baskets also provide a designated space for children to return books after they have finished reading.
Create designated sections or cubbies
Divide your Montessori bookshelf into designated sections or cubbies to make it easier for children to find specific books. You can use labels or picture cards to indicate the different sections, such as fiction, non-fiction, animals, or alphabet books. This helps children develop categorization and sorting skills.
Display books with accessibility in mind
Arrange the books on the Montessori bookshelf with accessibility in mind. Place the books with their covers facing forward and at a height that is easily reachable for children. This makes it simple for them to choose books independently and encourages them to engage in reading and exploration.
Why are Montessori bookshelves suitable for playrooms and preschools?
Promote independence and self-directed learning
Montessori bookshelves are suitable for playrooms and preschools because they promote independence and self-directed learning. By allowing children ease of use to choose and explore books on their own, they develop a love for reading and become active participants in their own education.
Enhance the Montessori method of education
Montessori bookshelves are an integral part of the Montessori method of education, which emphasizes hands-on learning and individualized instruction. The bookshelf provides a physical representation of the Montessori philosophy and supports the child's natural development and curiosity.
Offer a great option for toy storage
In addition to organizing books, Montessori bookshelves offer a great option for toy storage. The open shelves can also be used to display and categorize toys, promoting a sense of order and cleanliness in the playroom or preschool. This encourages children to take responsibility for their belongings and learn how to tidy up after playtime.
Consider Using a Montessori Bookshelf
Montessori bookshelves are emerging as indispensable tools in nurturing a child's love for reading and fostering independence. These specially designed shelves, crafted with accessibility and visibility in mind, serve as magical portals that ignite young minds' curiosity and thirst for knowledge. By understanding the unique needs of children, Montessori bookshelves provide easy access to a carefully curated collection of books, enabling even the tiniest tots to explore the world of literature effortlessly. Their front-facing design not only captivates young readers with enticing covers but also offers parents a convenient way to manage book rotation.

As the demand for Montessori-inspired learning spaces continues to rise, these innovative bookshelves stand out as game-changers, transforming ordinary rooms into stimulating environments that encourage confident, independent learners. Embrace the Montessori revolution today and witness the transformative power these shelves hold in shaping a child's early learning experiences.
If you loved the information you gained on Montessori shelves, consider learning more about our favorite board books and other children's books.