New(ish)Twin Products We Love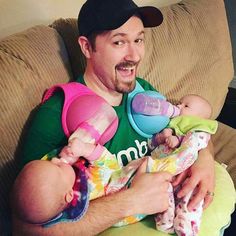 Is it just me or are families with twins and multiples everywhere? As it turns out, the rate of multiple births has been rising in recent years. In 2021, there were 114,161 infants born in twin deliveries in the U.S.! So it's no surprise that the baby industry is catching up to this demographic trend and creating some awesome (much needed) twin products to meet the unique needs of parents of multiples (PoMs).
If you have or are expecting multiples, check out some of the best products for twins and their caregivers. These are the items that will help make parenting your twins, trips, quads (OMG!) easier, more manageable and — yes — even fun!
See also: Top 5 Most Useful Items for Twins
Romp & Roost is an oversized playpen with a unique divider for two infants or toddlers to safely sleep without the worry of accidental smothering — perfect for twins. The divider, which is made of breathable mesh, is removable to let your little ones interact in one large space. It really is one of the best products for twins!
The Romp & Roost playpen isn't just great for traveling (and, note, it's part of the Romp & Roost LUXE Integrated Travel System); it's also a great solution for your twins to sleep in your bedroom, near your bed, for the first six months (as recommended by the AAP). This playard can hold up to 70 lbs.
I love Milestone blankets — perfect for snapping Insta-worthy pics and seeing the progression of your baby's growth! I was super excited to learn they now make milestone blankets for twins. Love.
When you're pregnant with multiples, there's more to worry about. You're considered a "high-risk" pregnancy simply because you are carrying more than one baby; and you have to think about (and anticipate) issues such as preterm labor, early contractions, and monitoring multiple babies' movements. Enter: the Bloomlife Smart Pregnancy Tracker.
Just stick the Smart Tracker on your belly (easy to follow instructions in the kit) and let it do all the work of tracking and monitoring contractions, helping you differentiate real ones from Braxton Hicks. Bloomlife provides "an accurate second opinion for peace of mind when it matters most." We love that this tracker is actually for rent. No need to worry about buying an expensive device to use only for a short period of time.
The NuRoo Pocket is a skin-to-skin infant carrier shirt. While seated, it's approved for twins (even preemies), which is perfect for kangaroo care in the NICU and the first few grueling weeks at home.
According to NuRoo, "Mom's breasts are able to independently regulate baby's temperature. Always ensure that each baby is positioned directly over a breast and that their head and neck are supported within the garment's neck line."
Tested on babes up to 45 lbs, the shirt comes with a support belt to ensure a secure hold on your littles. This carrier is perfect to pack in your hospital bag for skin-to-skin for both mom and dad.
A few years ago Halo came out with this double version of their classic bassinest made especially for twins! It includes a breathable mesh divider so babies can have their own space, yet still enjoy the same sense of togetherness as they did in the womb.
The sleeper swivels a full 360 degrees, so you can easily bring the twin who is fussing closer to you for feedings and soothing. This feature is awesome for c-section mamas — easy access to both babies means no getting out of bed in the middle of the night or bending down low to pick up a baby.
The sidewalls are retractable, too. They lower and raise so you can easily pull your babies out and put them back in again, and you can also lock them in the upright position. You can also raise or lower the entire sleeper.
The swivel sleeper comes with a built-in nightlight (awesome for nighttime diaper changes), three lullaby options, three nature and womb sounds and two levels of vibration. Though some people are saying that the music and vibrations are too weak to actually soothe baby.
All in all, the Twin Bassinet is an awesome and convenient way to keep both babies by your bedside.
If you're a triplet or quad mama, or even if you have twins and one or two more singletons, this one's for you. You can get the The Zoe Trio+ or The Tribe+, or if you already own the Zoe Twin+, you can just purchase the Add-On Trio Seat (for three kids) or Add-On Tribe Seat (for four kids!).
It's super easy to click the attachment piece (to make it either a triple or quad) in place. Simply attach it onto the belly bar of the Zoe Twin+ (see below), and voila! You now have a ride for three or four kids. Awesome!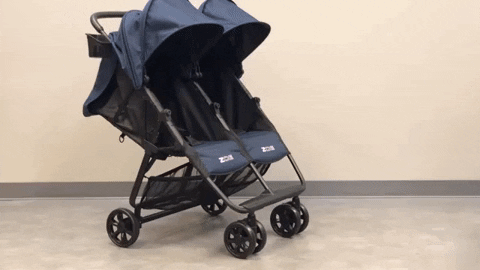 That's all I got, folks. What are YOUR new favorite must-have for multiples? Share in the comments below!
---