Weight: ~35 lbs

Looking for a car seat and double stroller combo? The Maxi-Cosi Dana for 2 is unique because, when used in travel system mode, it is the only double umbrella stroller that accepts two infant car seats at the same time – pretty awesome and convenient for parents of twins — and a great alternative to tandem twin car seat frame strollers.
While the Dana for 2 only takes Maxi-Cosi car seats (and, FYI, the stroller comes with car seat adapters…yay!), if you don't have Maxi-Cosi car seats, don't worry: the stroller seats on the Dana for 2 recline to a nearly flat position, so infants (3 months+) can lie comfortably, pram-style.
In fact, there are a lot of ways to use this stroller (see below) – use it as a travel system with two car seats, or use it with one car seat and one regular stroller seat, or as a simple double umbrella stroller with two regular stroller seats. As a mom with multiple kids, I appreciate options!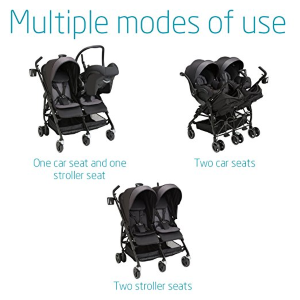 Now let's dig a little deeper into the pros and cons of this unique double stroller and car seat combo. There are some sticking points (quite literally… some report that the stroller is difficult to open).
Let's start with the positive.
As mentioned, the Maxi-Cosi Dana for 2 can be used as a double travel system from birth, with the included Maxi-Cosi infant car seat adapters. When using it as a travel system, your babies are rear-facing (right where you want them) so you always have a great view of your precious cargo; bonus: the car seats sit high up, so you won't have to constantly bend down to attend to your babies' needs (e.g., replacing pacifiers, wiping away spit-up, etc.).
When it comes to deciding between a tandem twin car seat frame, such as the Double Snap 'n Go, or the Dana for 2, there are two important things to consider: first, side-by-side strollers, such as the Dana for 2, are generally much easier to maneuver than tandem twin car seat frames; plus, unlike a double tandem frame stroller, the Dana for 2 can become your double umbrella stroller once your car seat days are over (or when you're done using it in travel system mode).
When your kids are sitting in the regular stroller seats, the Dana for 2 has two independent extra large canopies – yay for sun coverage! – with peek-a-boo windows, so you can easily check on them when you're out and about.
Each stroller seat can accommodate a child up to 50 lbs, and has an adjustable leg rest that can "grow" with kids as they get taller. Also nice is that this stroller has "one-handed steering," which makes it much easier to push and steer when you're juggling multiple kiddos and their seemingly endless litany of needs.
At 31 inches wide without car seats attached, the Dana for 2 fits easily through standard size doorways and other narrow spaces. But here's a big, huge caveat: many reviewers say that with the car seats on, it no longer fits through some doorways (more on this later…).
Moving on.
People who are space-constrained and don't have much storage (either at home or in their trunk) will appreciate the compact umbrella fold, and the fact that the Dana for 2 self-stands when folded. It fits in most trunks too (though be sure to test if it fits in yours before taking the tags off).
We also like the water resistant canopies, the upmarket seat fabrics, and the general look of this stroller. The Dana for 2 comes with a parent cup holder (though many say it's flimsy…), as well as machine-washable and reversible seat inserts so you can "customize" the stroller's look (or simply turn the seat covers inside out when your kids have spilled on them…my way of "doing laundry"…ha!).
Now that we've covered the "good stuff" about the Dana for 2, let's discuss some of the cons about this car seat and double stroller combo…
It's about 35 lbs, which, for a double umbrella stroller (when you plan to use it as such), is heavy!
As discussed above, when using it in travel system mode with the car seats on, it may not fit through standard doorways. Of course, all doorways are different, but by ADA standards, the clear width of a door opening must be a minimum of 32 inches – and with the car seats on, you might struggle through doors on the narrower end of this. (Also, with the cup holder attached, the Dana for 2 measures 34.5 inches wide, so your coffee might hold you up on occasion too.) This is truly a huge bummer for parents of infant twins who are planning to use this instead of a double frame stroller.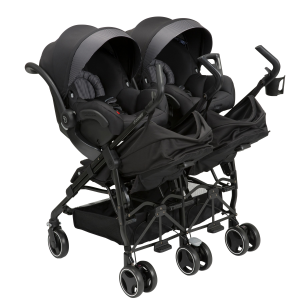 Also annoying is that when you want to insert the car seat(s), you need to remove the hood and then put the car seat adapters in their place (hopefully you don't need to do this often…).
In addition, given the location of the handles, some moms say you need to walk extra close to the stroller (I guess the upside is that you get to feel super close to your kids?!). Another issue users cite is that the baskets under the seats are difficult to access, and too small to hold diaper bags or other larger items. And while it's nice that the stroller comes with a parent cup holder, many report it's super flimsy and even unusable (plus it makes the stroller wider, as discussed above).
But most concerning are the quality complaints about the Dana for 2. For instance, some say it's really difficult to open, or that you need to use a lot of force to jerk the stroller open. Reviewers also say that the tires and brakes tend to squeak, and in some instances have even been defective – eek!
Bottom Line: Perhaps this is an instance where you take the good with the bad?
For twin moms who already own, or who are planning to purchase Maxi-Cosi car seats (and who don't mind that with both car seats on, the Dana for 2 may not fit through some doorways), this really is an awesome multi-use double stroller that will take you all the way from birth through toddlerhood.