The problem with a lot of double side-by-side strollers is that they are wiiiiiide — meaning, when you're strolling through the 'hood or city with your kiddos, you hog up a lot of sidewalk space, and it's a feat of all feats to fit through doorways. Enter the Mountain Buggy Duet. This unique double side-by-side — which comes in three colorways, Grid, Black, and Silver — is the same width as a single stroller. Yes, it's really true.
Intrigued? Let's take a closer look.
Mountain Buggy Duet V3 Review: Size & Weight
How has Mountain Buggy delivered a 25" wide DOUBLE stroller? By narrowing the two seats to 11" each, making it the narrowest side-by-side on the market (typically, the width of a side-by-side double stroller is about 32", meaning each seat is generally around 16" wide).
This comes at a price, of course, since the narrow seats have a weight limit that's much lower than other double strollers. But more on that later. The Mountain Buggy chassis is made with high-grade, lightweight aluminum, yet is very stout and sturdy. It pushes like a dream, but, at 32.4 lbs, it is heavy to lift in and out of the trunk (though this weight is typical for an all-terrain double, even with an aluminum frame).
Car Seats/Carrycots/Newborn Cocoon
The Duet happily accepts two infant car seats of nearly any brand (yay!).
You can purchase one or two car seat adapters, which are sold separately.
See here for the full car seat compatibility matrix.
But wait, there's more! You can also use this stroller with one or two carrycots. Called the Carrycot Plus (sold separately), it can be used from infancy through 33 lbs. The carrycots have three modes of use: flat (pram-style), slight incline mode (super helpful for babies with reflux), or as a parent-facing seat.
The Carrycot Plus also has metal feet to keep it off the floor when not on the stroller, airflow underneath which is recommended for safe sleeping, and a fully ventilated removable mattress, which allows you to use it as a bassinet when traveling.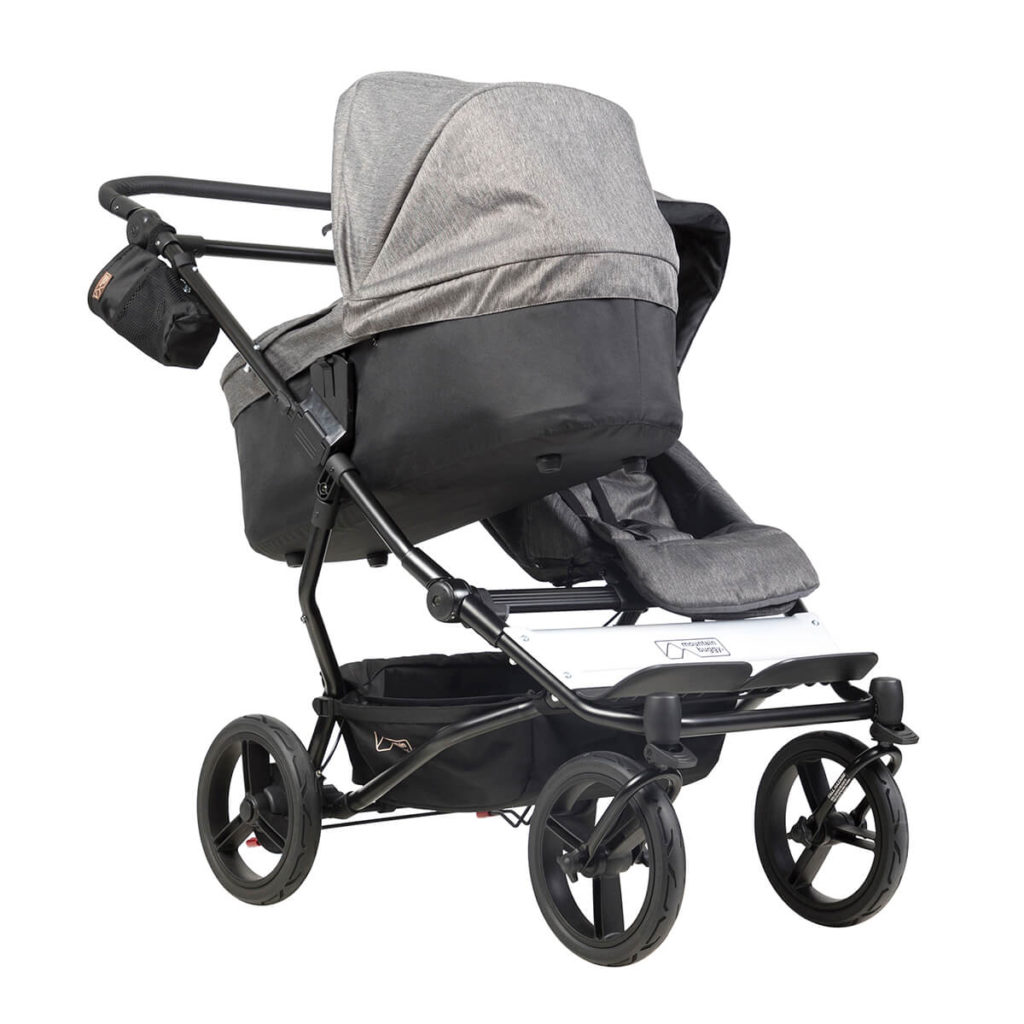 You also have the option to purchase the Newborn Cocoon (for 0-6 month-olds), which slides (and clicks) right into the stroller's fully reclined seats and provides a safe, cozy, flat bassinet for newborns to lay in.
The Newborn Cocoon is similar to the Carrycot Plus, but it has a few key differences. While the Carrycot Plus can be used in three different modes (flat, incline, and parent-facing), the Newborn Cocoon can only be used in lie-flat mode. It's more of a traditional bassinet, if you will. It has a protective zip lid to shield your baby from the elements when you're out and about and carry handles to allow you to easily transport your baby in and out of the stroller without waking him up.
Twin product alert!! Mountain Buggy now offers a Carrycot Plus for Twins (~ $329) and a Cocoon for Twins (~ $109). These are perfect solutions for keeping your twin babies snuggled up together while on a stroll — similar to how they spent their time in the womb! (Bonus: they work for naps and overnight sleep as well!).
Seats
Once your kids grow out of their car seats, the Duet will comfortably take them through the age of 3 to 4 in the regular seats. If this doesn't seem long, that's because it's not. The narrow seats are about 25" tall (from seat base to canopy) and can each hold up to 40 lbs.
Comparatively, the B-Lively Double and Baby Jogger City Mini GT2 Double can fit kids who are up to 50 lbs. So the Duet is not for older, bigger, heavier kids. So you'll have to decide… Do you want a double stroller that can zoom through narrow supermarket aisles (aka the Duet)? Or do you want one that can last you longer (aka other full-featured double strollers)?
But… when it comes to the quality of the seats, the Duet is in a whole different class than the aforementioned double strollers. As with all Mountain Buggies, the seats are made of high quality 600D polyester fabric and have nice 5-point padded harnesses and a toddler-proof buckle. The harness height adjusts easily by twisting and sliding the straps to the desired position. The Duet also has an adjustable crotch strap to keep kiddos riding comfortably as they grow.
Wheels/Suspension
The Duet can plow through anything with its four 10" air-filled tires, and the front wheels can swivel or lock to get you through rougher terrain. In fact, this stroller steers effortlessly and turns on a dime. But note that you will need to keep a pump nearby for the occasional re-inflating of the tires. If this is too much of a nuisance (it IS a pain, I admit, to re-inflate all four tires every so often), you can purchase an entire set of puncture-proof tires. For comparison's sake, the Bugaboo Donkey5 has foam-filled "forever air" tires that will never go flat.
Fold
Mountain Buggy recently improved the fold on the Duet, which now folds easily with one hand and locks automatically. It can collapse down to the floor or stand on its own. When folded, the V3 Duet is 2.7 inches more compact than previous versions (and is also slightly narrower than the Bugaboo Donkey5). That means you can fit it into a smaller trunk, like that of a small hatchback.
Canopy, Braking, Storage, Accessories
The independently operated sun canopies provide full SPF 50+ coverage, complete with an additional pop-out sun visor and a peekaboo window for parents to check on their littles.
The Duet essentially has two braking systems. The hand operated brake was an upgrade on the V3 version, and it comes in handy when you've got a heavy load, are going downhill, or simply need to slow down or stop smoothly. The foot park brake is helpful when you need to make a quicker and more complete stop. But summer shoe wearers beware: the foot brake is not very flip-flop friendly.
The storage basket is large and fairly accessible. Yes, you can fit a larger diaper bag back there. Woohoo!
The handlebar adjusts nicely and easily for height — this makes it a comfortable stroller to push for both short and tall parents alike.
Let's talk accessories, shall we?
In addition to the Newborn Cocoon and Carrycot, there are a lot of cool accessories you can purchase separately to go with the Duet (check them all out here).
One awesome, unique add-on is the Joey Tote Bag. Similar to the Bugaboo Donkey, the Joey bag goes in the empty seat position (below) and provides extra storage (approximately 40 lbs worth!!) for shopping trips and whatnot. Trust me, it is so nice to have storage at thigh level so you don't have to bend over to get stuff.
I love this, because it really makes the Duet so versatile. It's interchangeable with the seat, so you can use this as a single stroller with the tote, and later as a double if/when you add another child to your family.
You can also purchase a parent console, called the Handle Storage Bag, for those must-have items you need at your fingertips: keys, phone… coffee (yes, that's my must-have!).
Mountain Buggy's insulated bottle holder is another great accessory — it attaches with Velcro to the side of the stroller, and also has a little mesh pocket to store something small (phone, perhaps?).
For families with an older child — you know, too big to ride in a stroller, but too small to walk long distances — you can purchase the Freerider Stroller Board so she can ride along.
Bottom line: The Mountain Buggy Duet is one of our favorite side-by-sides in this price category. It is versatile and narrow, making it a great option for urban living. The large canopies and flick-out sun visors, lie-flat recline, and larger storage basket make it a pleasure to use. The Duet is a top pick for twins because you can buy two car seat adapters for a variety of car seat brands, as opposed to the Bumbleride, which only accepts European brands. However, because of the narrow seats, the Duet isn't a good option for heavy or tall kids.