Planning on braving the outside world by your lonesome? If you want to go anywhere and have two free hands while carrying your twins (or for hanging out at home, for that matter), a baby carrier for twins is your best option.
Since oftentimes newborn twins are smaller than other babies, you may have a hard time using a normal soft structured carrier, like the Ergo, for the first few months – it's a bit big for tiny ones.
Baby Carrier for Twins: Newborns
Wraps
For the first few months, you may want to start by using a wrap-style carrier.  Our favorite is the Boba Wrap, which is $10 less than the Moby and s-t-r-e-t-c-h-i-e-r, so it's perfect for tandem-wrapping.
Other of our favorites are Happy Baby wraps and Solly Baby wraps, which offer a variety of beautiful and trendy colors and patterns.
You can check out YouTube for tons of videos (or just check out our faves below) of different ways to wear your twins in various wraps.
Make sure you are using the correct wrap style for the carrier, as stretchy and woven wraps work and act differently.
Baby K'tan
(pronounced Ka-TAHN) ~ $

53

With the double loop design, the Baby K'tan is an easier wrap to get on because you don't have to learn how to tie anything. It's perfect for wearing newborn twins together (up to 10 lbs each). Note that the K'tan is sized to fit you (the wearer), not your baby. Choose your size carefully and know that it's very stretchy.

*Note that due to new CPSC guidelines, Baby K'tan can no longer "officially" recommend their carrier for twins, but that's not to say it can't be done….

The NuRoo Pocket is approved for preemie and twin use (while sitting). You wear the pocket like a shirt and the babies fit into the little pocket in the front. Awww. Tested on babes up to 45 lbs, the shirt comes with a support belt to ensure a secure hold on your littles. This carrier is perfect to pack in your hospital bag for skin-to-skin for both mom and dad.

The Nesting Days carrier is different because you wear it around your tummy, like a shaper, which makes it very secure, comfortable, and totally hands-free. This carrier also gives much needed tummy support after giving birth, which may be helpful in postpartum recovery. Twin moms love this carrier, especially those who have had c-sections.
Nesting Days is 'made-to-order' in small batches in San Francisco. Immediate delivery is $98. Pre-orders that ship in 4 to 6 weeks are $88. Sizing is based on your pre-pregnancy dress size.
This carrier runs a little small, so size up when you order. If your carrier arrives and you realize it's the wrong size, Nesting Days will send you the right size within a few days, and a pre-paid envelope for the return.
Again, per the CPSC guidelines, the Nesting Days Carrier is not "officially" recommended for twins. Talk with your pediatrician if your have concerns.
Available exclusively Online at nestingdays. Enter discount code LUCIESLIST to get a $5 discount off any order.

MiniMonkey Twin Carrier ~ $147 USD (~ $27 shipping charges to the U.S.)
Recently a reader clued us into the Minimonkey TWIN — a new double wrap carrier for twins (but with some structural features for added safety and ease of use), and we think it's awesome!! As a twin mama myself, I struggled to find a comfortable way to carry both my twins simultaneously (as well as get them situated in a carrier by myself). The Minimonkey seems like an awesome, easy-to-use tandem-carrying solution for twin parents.
It's comfortable for the babies due to its ergonomic design that allows both babies to be carried in the hip-safe "M-Position" (see example of M position below — though with the Minimonkey, twins ride on each hip and not in front as the illustration shows), with their backs and necks fully supported.
Younger babies ride with their arms in the carrier, while older babies can tuck their arms in our let them stay out (cue adorable photo ops of twins holding hands while riding in the Minimonkey TWIN!).
The Minimonkey TWIN can safely hold newborn babies (without an insert) all the way up to approximately 26 lbs per baby (!!).
The Minimonkey is also comfortable for the babywearer too: its wide waistband and shoulder straps distribute the weight of the babies over the wearer's upper body. This helps lighten the load, as well as prevent any babywearing backaches.
The Minimonkey TWIN was designed to be easy to use, but if you're like me and need a how-to video to learn how to do anything… check out this Instructional video.
A few months ago, Minimonkey introduced a new version of their twin carrier called the TWIN – Mesh (the carrier used to be cotton). Made totally out of breathable mesh fabric, the design has also been improved upon. It is easier to adjust, more comfortable to wear and offers more support and leg room for the babies.
Note that while Minimonkey is a Dutch brand based in Amsterdam, they do ship to the US. The shipping fee is approximately $27.
Soft Structured Carriers
Finally, for newborns (only), there is the Weego carrier. This is a soft structured carrier made for preemie and newborn twins. The carrier holds both babies in the front. It has a short lifespan (approximately 6 months), and then the babes will either be too long or too heavy for the carrier.
At $169, it's a pricier option than a K'tan or wrap, but the upside is that you don't have to learn to tie it in several different ways. The appeal of the Weego is that it's especially great for preemies (from 3 lbs and up).

Baby Carrier for Twins: Infants
Ring Slings
Another popular method of carrying young twins together is using double ring slings (that's right, you need two of them). This way of carrying twins feels very natural – and looks natural as well (vs. some of the other "contraptions" that may garner some strange looks).
The double ring slings are not quite as secure as some of the structured carriers mentioned below, thus, not ideal for vigorous activity; they are great, however, for bumbling around. They're also better for when your little ones are awake (vs. for when babes are sleeping).
Again, once your twinnies bulk up a bit, you can use a soft carrier made for twins, but the double ring sling works great for infants and comes in many beautiful prints. For some inspiration, go here.
Some of our more favorite, more affordable ring slings include: Hip Baby Ring Sling, the Maya Wrap, and WildBird; and on the pricier end, there is the beautiful Sakura Bloom and the Tula Ring Sling. If you have a lot of people buying gifts off your registry, any of these would be great to ask for.
Structured Carriers for Twins
When looking at the next category of Soft Structured Carriers, you should select based on how and when you are going to use it…
For the heavy-duty user who wants all the options, the TwinGo is our favorite.
It is pricey, but it has the sturdiness for all sizes to comfortably wear both twins at the same time – and also offers the option to wear them separately.
You can tandem-wear twins from 4 months on (head and neck control are crucial for the back-carry position). Both babies can be worn individually in the front from 10 lbs+. But wait, there's more… If you want to wear the babies at 7 lbs there is an infant attachment you can buy separately. The carrier is tested to hold a combined weight of 70 lbs… WOWZA. Make sure you bend at the knees!
There is some complexity to this carrier as well, but the instruction booklet is very easy to follow with illustrations and color coding. The TwinGo has all the bells and whistles (with the option to purchase additional accessories), including breathable fabric for airflow, a zipper pouch and a hood on each carrier, which is great for wearing while breastfeeding or napping (their naps, that is). The straps have lots of padding and there is a safety belt for the baby in front.
This carrier is so secure, I feel like I can hike up a mountain while tandem-wearing (I need to lay off the coffee). Bottom line: the TwinGo is awesome!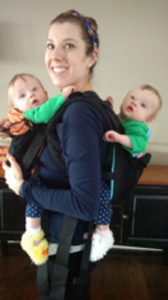 Bottom Line: depending on your lifestyle, having a soft structured carrier is awesome too because it allows you to be hands-free. These will last into the second year (most likely), so choose accordingly. You have some time before you can use most soft structured carriers, so you can always wait to decide when you have a better handle on your needs.
If you are new to baby-wearing, once you start you'll see how easy it is to get into; and for twins, let's just say holding both babies while rocking/bouncing gets old and heavy – fast. The carriers are great for soothing two fussy babies after they get their shots, while making dinner, cleaning, or holding a drink or two (one drink for each baby, right?) 😉
Good luck!
---