Strollers for Twins: Top Picks
Looking for the best twin stroller? In this article, we discuss the various types of twin strollers and our favorites of each. Not sure if you need an umbrella stroller? A tandem stroller? Not to worry, we will break it ALL down for you.
Hey guys — It's Meg Collins, Editor in Chief, and Marissa Bader, mom of twins and our multiples editor. We've been reviewing double strollers now for 10 years. It's really our specialty!
In a nutshell, there are three types of twin strollers.
Jump to:
For newborn and infant twins, there's your basic double frame stroller, which is used solely to cart around babes in their car seats.
Next are your full-featured double strollers, which can be used from infancy well into toddlerhood.
Last is the double umbrella stroller, which is a lightweight stroller that is great for travel with your 6+ month old twinnies. For those, please see the double umbrella stroller guide.
Newborns and Infants
For newborn twins, there are two routes you can take in the stroller department:
1. Get a double frame stroller for the first 9 months or so, then get your "real stroller" later in the first year.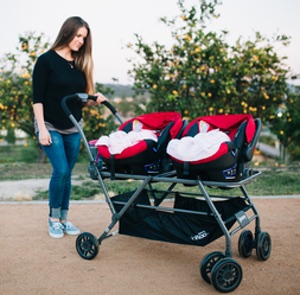 Frame strollers are built specifically to hold babies in their car seats – and nothing else (i.e., they don't have "seats" of their own). Thus, they only last for as long as your babes are in their infant car seats, which is roughly a year (or less). Realistically, most twin parents use them for about 9 months. After 9 months (give or take), the babies are too heavy to carry around in their car seats.
The main reason people use this is because it is an extremely lightweight stroller (compared to their full-sized counterparts), easy to use, and easy to get in and out of the car.
If you live in a rural area, or any area where you will encounter non-paved or uneven surfaces (cobblestones, uneven sidewalks, etc.) on a daily basis, or you live in a place with snow/ice, etc., the frame stroller won't work very well for you. Thus, an all-terrain twin stroller (or even a double jogging stroller) is more appropriate.
Most parents of multiples stick with strategy number one to start with, the simple twin car seat stroller frame, because it's so lightweight and convenient (with the caveat that frame strollers don't work well on rough terrain), and then later upgrade to their full-featured stroller.
If you drive a lot, some parents keep their frame stroller in their car at all times and keep their nice double stroller at home in the garage.
As you can see, there are many ways of skinning this cat! It all depends on the needs of your lifestyle.
Ok, let's drill down a little deeper….
Best Full-Featured Twin Strollers
The synopsis (in order of price) –
Twin Strollers – In Depth
While writing the complete Double Stroller Guide, we made special note of those strollers that would be especially awesome for twins. Our twins editor (Marissa) and I compared notes with our twin parent friends, and voila.
Some of these are tandems and some are side-by-sides (SBS). Which type is right for you? Please read the introduction in our double stroller guide to learn more about the pros and cons of each kind.
The pickings for twin strollers are somewhat slim because of our stringent criteria for a good twin stroller:

1. Few double strollers take two infant car seats (or two bassinets) at the same time. Note: those that do typically stagger the car seats in a stadium-seating configuration to allow room for both, and also to balance the stroller so it doesn't tip over.

2. Many double strollers (tandems, especially) have a "big kid seat" and a "little kid seat." While these can work for twins, it's much better to have two identical stroller seats. The UPPABaby Vista V2, for example, is an awesome double stroller that can take two infant car seats, but… has the big seat/little seat problem (one 50 lb seat and one 35 lb seat), so it's okay for twins, but not ideal.

Furthermore, strollers with two big seats (40-50 lb limit seats) can be used for longer (vs. other strollers where the max weight of the little kid stroller seat is 30 lbs or so).
Without further ado, here are our favorite twin strollers:
Price: $162
Stroller Weight: 23 lbs
Weight Limit: 40 lbs per seat (80 lbs combined)
If you're looking for a budget double stroller that's great for travel (or every day throw-in-the-car use), and has plenty of solid features, check out our Kolcraft Cloud Plus Lightweight Double Stroller review. This stroller is not sexy, but it does hit some high points — all for around $200.
Price: $499 (on sale at Amazon for $399)
Stroller Weight: 34 lbs
Weight Limit: 40 lbs per seat (80 lbs combined)
This tandem stroller is one of the more affordable "good for twins" double strollers. We call it the "poor man's City Select" because it offers many of the same features, but for a lower price tag. It accepts two infant car seats as well, making it an awesome pick for twins.
Price: ~ $549
Stroller Weight: 20 lbs
Weight Limit: 33 lbs per seat (66 lbs combined)
One of our favorite features for twin parents: the Mountain Buggy Nano Duo can accept two infant car seats, when paired with the Nano Duo Twin Infant Car Seat Adapter. Alternatively, you can attach Mountain Buggy's new cocoon for newborn twins (~ $109), so your duo can lay cozy and snug together!
Bundle price for both the stroller and 2nd seat kit: ~ $595
Weight: 26.5 lbs without 2nd Seat; 35 lbs with two seats
Weight Limit: 45 lbs per seat
The Mockingbird Single-to-Double stroller has gained major traction since it hit the stroller scene a few years ago. This convertible stroller is a solid choice for multiples because it can easily accommodate three kids, with the use of the 2nd seat kit ($145) and glider board ($95), both purchased separately.
What's great about the Mockingbird Single-to-Double for twins is that both the toddler seat and the 2nd seat are exactly the same — there's no big kid/little kid seat situation, like on the UPPAbaby Vista. Both seats can accommodate children up to 45 lbs. The Mockingbird superceded the Vista as a top double stroller pick for twins for this reason.
The Mockingbird Single-to-Double accepts two infant car seats, but you can also use this stroller with newborn twins. Both seats lay perfectly flat, and with the purchase of two infant inserts ($35, sold separately), your babies will be snug and cozy and have the extra head and neck support they need for safe strolling.
Also awesome for parents of twins who don't have the time (or free hands!) to remove stroller seats before folding, the Mockingbird Single-to-Double can fold with both seats attached (and it's a super simple one-handed fold, too — woohoo!).
Favorite part: you can get custom canopies for your twinnies:
Price: ~ 599
Stroller Weight: 24 lbs
Weight Limit: 45 lbs per seat (90 lbs combined)
The Valco Baby Slim Twin, which replaces Valco's now discontinued Neo Twin, is one of the narrowest double side-by-side strollers on the market! At only 24 lbs and 26 inches wide, you will have no problem maneuvering your twins through store aisles, doorways and other slim spaces. The Slim Twin is also great for travel!
Price: ~ $699
Stroller Weight: 36.5 lbs
Weight Limit: 50 lbs per seat (100 lbs combined)
The City Mini GT2 Double is a super popular side-by-side double stroller that's also great for twins! The big downside to this stroller for twins is that you can only use it with one car seat at a time, which won't help much for newborn twins; however, you can buy two compact prams for use in infancy (0-6 months only), or for 3 month+ twins in the regular seats.
7. Baby Jogger City Select 2 — Most Spacious/Versatile Tandem for Twins – for parents in flat areas (not good in hills)
Stroller Weight: 35 lbs
Weight Limit: 45 lbs per seat (90 lbs combined)
The City Select has been replaced by the Baby Jogger City Select 2 (a stroller that combines the best parts of the City Select and City Select Lux — see link to review below). The Baby Jogger City Select is the most popular tandem twin stroller – and one of my favorites as well. The City Select is a convertible stroller, which means it can be used as a single or as a double. For twins, you can buy the whole thing as a double– and hey, it's good to know you can use it for a singleton should you have another [single] baby (never say never! Haha).
Price: ~ $750
Stroller Weight: 34 lbs
Weight Limit: 45 lbs per seat (90 lbs combined)
One of the unique features of many Valco Baby strollers is that you can add a third seat (the toddler seat) for a third child to ride along in the stroller. We discuss this in depth in the Best Strollers for 3 Babies or Toddlers.
9. Mountain Buggy Duet — Very Narrow All-Terrain, Side-by-Side
Price: $769
Stroller Weight: 34 lbs as a double
Weight Limit: 79 lbs combined
The Duet is a very narrow, rugged all-terrain stroller that's great for twins.
Mountain Buggy recently debuted two cool new items for twins: Cocoon for Twins and the Carrycot Plus for Twins.
They are both compatible with the Duet, and clip right onto the stroller's frame. Both options allow twins to snuggle together closely in (and out of) the stroller — yes, you can lay your babies in the Cocoon or Carrycot for naps and overnight sleep as well.
While the Cocoon is perfect for newborn twins, the Carrycot Plus — which offers three different parent-facing modes — is suitable for children up to 3 years of age. We love twin-minded innovations!
Price: $799
Stroller Weight: 30 lbs
Weight Limit: 45 lbs per seat (90 lbs combined)
The Peg Perego Book for Two can be used as a double travel system from birth (with Peg Perego car seats only, FYI), and later on as your full-sized double stroller. It's narrow and easy to push, maneuver and fold. It rides well over various types of terrain and has a lot of luxury features that make it a solid pick for your twins.
11. Bumbleride Indie Twin — Side-by-Side Luxury Pick; Beautiful Eco All-Terrain Stroller
Price: $899
Stroller Weight: 36 lbs
Weight Limits: 90 lbs combined
The Indie Twin is an all-time twin parent favorite. Yes, it takes 2 infant car seats at the same time.
The stroller is eco friendly, beautiful and well made. This is a great stroller if you're looking for a sporty all-terrain stroller that still looks great.
12. Nuna Demi Grow — Tandem Luxury Pick; Compact, Maneuverable "Drives like a single"
Price: $1,199 as a double; ~ $949 as a single
Stroller Weight: 27.4 lbs (singles) and 35.6 (doubles)
Weight Limit: 50 lbs per seat (both the toddler and second seat are exactly the same!)
The Nuna Demi Grow has a special "twin mode" that allows you to stroll both your babies simultaneously in car seats, bassinets or regular seats once they're older. Yay! (Bassinets, car seats and second seat sold separately.)
13. Bugaboo Donkey5 Twin — Luxury, Expandable/Versatile Side by Side
Price: $1,889+
Stroller Weights: 27.5 lbs (Mono) and 31.5 lbs (Duo & Twin)
Weight Limit: 50 lbs per seat (100 lbs combined)
Bugaboo makes a version (a package, rather) of the Donkey5 that is specifically for twins.
With the Twin version, here is what you get:
1 extendable stroller base
2 seat/bassinet frames
2 seat fabrics
2 bassinet fabrics
1 side luggage basket
2 sun canopies
2 rain covers
It's a complete package, but you won't get out the door for much less than $2k.
The truly unique feature of the Donkey is the double rear-facing feature. You won't find this in any other side-by-side stroller.
Price: $2,199
Weight: chassis weight: 22 lbs; seat weight: 4.4 lbs (30.8 lbs with both seats attached)
If Bugaboo is a Kardashian, then the Silver Cross Wave is British Royalty. Seriously people — this baby is posh, chic and way out of my league.
But if you're looking for a double for your duo that's seriously top-of-the line and not the same stroller that everyone else has, you should at least take a peek at the Silver Cross Wave Twin (note, it's currently not in stock many places, but we will keep checking and update as it becomes more widely available).
The 2022 model of this stroller can accommodate up to 55 lbs in both the upper and lower seats (for a combined total of 110 lbs), which is more than any other double stroller on the market. The Silver Cross can be used as either a single or double stroller — and the adapters needed to convert it into a double come in the box (for this price, that's a relief!). Bonus: this stroller has reversible seats that recline to three different positions — including lie-flat mode for infants — and can be configured in 30 different ways.
Other notable features: The Silver Cross Wave Twin has all-wheel suspension with puncture proof tires, UPF50+ ventilated canopies with peekaboo windows, and leatherette handlebars, bumper bars and trim.
The Silver Cross Wave Twin comes with two stroller seats (the toddler seat and tandem seat), two bassinets (which can be used for overnight sleeping or daytime naps), two bamboo seat liners, two rain covers, two bug covers, one cup holder and one pair of tandem seat adapters to convert the stroller into a double.
The Silver Cross Wave Twin Stroller is compatible with infant car seats from Nuna, Maxi-Cosi, Cybex, and Clek (infant car seat adapters sold separately).

---
Ok friends, that covers our favorite twin strollers! I hope you found something you like. Is there one we missed? Please leave a comment below. Cheers!