The thought of wearing maternity jeans in pregnancy makes some people cringe. Shoot – it's hard to find the right jeans on a normal day, but with a pregnant belly? Oyyy.
I totally get it.
But… I promise: once you find the best maternity jeans, you'll want to wear them every day, even at home. Whether you're a skinny, straight-leg, cropped or boyfriend kinda gal, jeans for pregnant bodies can actually be a closet staple. In fact, they'll be as versatile in maternity as they are in normal life (normal, haha).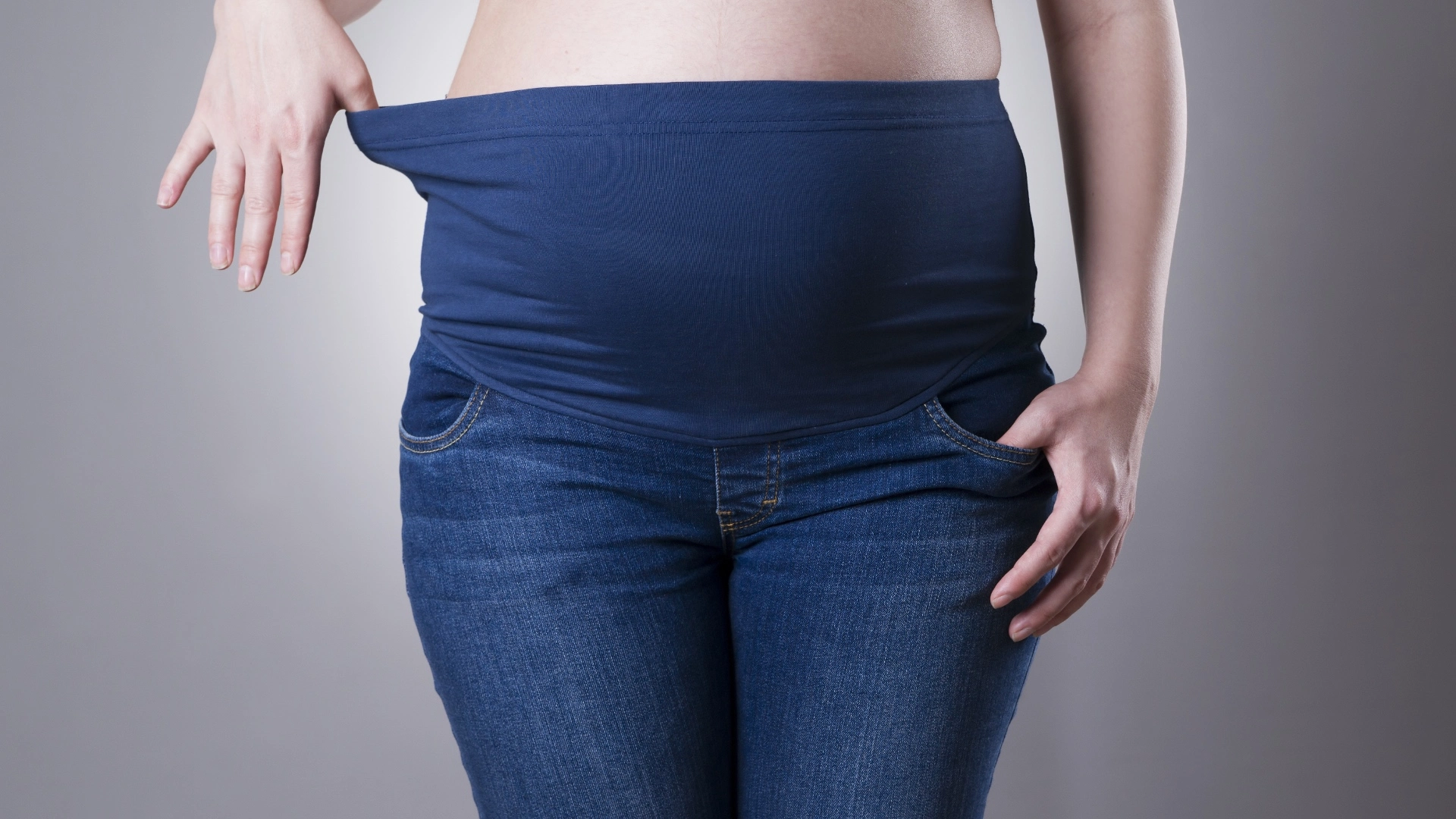 Brands out there — from budget-friendly Old Navy to trendy HATCH — now offer a variety of fits and fashion features that help expecting women feel like they are wearing heir regular jeans. The idea, here, is to make them feel good and like themselves (as much as possible), even as their bodies constantly changing.
Did you know? We have a tool that finds the best maternity deals at any given time on the internet. Check it out!
Here are our favorite styles and cuts for pregnancy, along with our go-to brands. Enjoy!
The Skinny Jean
The skinny jean is a staple before, during and after pregnancy — a lifetime companion, really. Not only does it help flaunt those new curves of yours (and your bump!), it also goes with literally anything!

Want to dress it up for work with a white button-down and some flats? Check.
Want to dress it down with an oversized t-shirt and some sneakers? Check.
With a good pair of skinnies, anything is possible! For the pregnancy and postpartum months, just make sure you find a pair with the right amount of stretch (aka a lot)!
Skinny Jeans – Top Picks for 2023/2024
A straight fit is a timeless classic that offers more of a relaxed look to give your legs more breathing room without looking baggy — a vintage-inspired silhouette that's been around since denim's entry into the world of fashion and that, needless to say, isn't going anywhere. Like the skinny jean, the OG of jeans is easy to dress up or down.
Want to keep it caj' and cool throughout your pregnancy? Or perhaps you have skinny-jeans fatigue? The boyfriend jeans will be in your rotation. They offer a relaxed fit that's slouchy in all the right places.
Boyfriend jeans (or mom-jeans, for a slightly more fitted look) are comfort and style meshed together — the perfect combo for all our pregnant ladies out there. Paired with your fave tee and sneakers, they make for the perfect easy-breezy outfit. Add on a little red lipstick and some fancy flats, and you'll be ready for a night out with your baby-daddy-in-training.
Does wearing jeans during pregnancy give you the ick? We FEEL you. Jeggings to the rescue! Jeggings are basically a hybridization of sweatpants and your trusty pair of jeans. Their stretch means that you don't have to give up comfort for that denim look. The fact that they're not real jeans? Well, that can be our little secret.
The one downside, though, is that jeggings usually do not have functioning pockets. But wear them with a tunic or a long blazer, and you just got yourself your new go-to brunch attire.
We've said it before and we'll say it again: there's nothing cuter than a pregnant person in overalls. Overalls are the perfect addition to your wardrobe rotation because it's an easy-wearing, one-and-done staple that gives you that effortlessly cool look while showing off that bump of yours.
The denim-bib style, which crossed over from function to fashion sometime in the 60s, has seen its popularity ebb and flow over the years but has ultimately transcended trends. Overalls are ever-versatile and for every season — from tank top to turtleneck weather. That being said, bathroom breaks (you'll have a lot of those) might not be so fun… you're warned.
Denim Shorts
This category goes out to the ladies who find themselves pregnant in the sweltering summer heat and/or those who live in warm weather year round. Too hot for pants? No problem — as the temperature rises, let the hem of your pants do just the same. Bare your calves and ease into an effortless summertime uniform with a pair of jean shorts. There are various cuts, fits and lengths to choose from. We personally like the midi cut-offs that fall on the middle of the thighs.
Denim Jacket
The item of clothing that needs no introduction, jean jackets are a classic for any fashionista and a must-have for transitional weather or a cooler evening. Oversize the timeless wardrobe staple to make room for your bump to grow, and you are good to go. We also love a chore silhouette or a shirt-jacket for a longer cut.
That's all for now, ladies. I hope you find some jeans that make you and your bump feel great!
---