Best Double Jogging Strollers
A high-quality, true double jogging stroller will allow you to run with your kids whenever you want, which will keep you sane and keep them comfortable and entertained. [See also: Best single jogging strollers.] Because you can't always leave the kids at home to go running, we've compiled our list of the best double jogging strollers.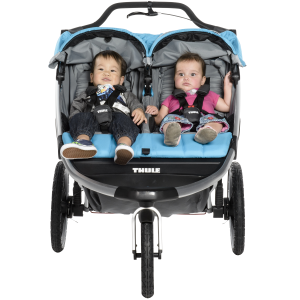 Babies
What about babies and running? The commonly held rule is that babies need to be about 6-8 months before running with them in the stroller. Yes, even in their car seat. Otherwise, it's just too much jostling around for their little baby brains – especially during the first 3 months when they have no neck control.
I've heard some doctors say you can jog with a baby as young as 4 months, ahhhnnnnd I've heard others say to wait a year. Bottom line is if this is something you'd like to do, discuss it with your child's pediatrician.
Economy Double Joggers
Jogging with kids is a major undertaking that requires robust gear. The forces of running combined with the weight of two kids produces a lot of… inertia. Hence, the "economy" category is REALLY tough.
Understanding that not everyone can afford a $500 jogger (right?) – I have two pieces of advice:
Buy used– you're much better off with a high-quality used stroller than a brand new cheap stroller that won't last. Like exercise equipment collecting dust in everyone's basement, many people buy good joggers and don't end up using them. At the end of the day, I'd rather have a used BMW than a brand new Kia. Just sayin'.
Buy new– with plans to re-sell it when you're done. The strollers I recommend here (with the exception of the Baby Trend Expedition Double Jogger) should hold up well over time and give you pretty good re-sale value, especially if you take good care of it.
Better yet, do both!
Here are the best double jogging strollers, from least to most expensive (full reviews below):
Best Double Jogging Strollers
$ — Baby Trend Expedition Double Jogger ~ $199 – Economy double jogger that works for many, but many complain about front wheel problems.

$$$ — BOB Revolution Duallie Flex 3.0 ~ $699 – Top Pick (tie) – Our favorite (tie) swivel wheel all-terrain/jogging stroller with air-filled tires. Excellent build quality, will last forever (and high re-sale value). The "push" and maneuverability is like no other, but the fold is a bit cumbersome. Perfect for runners and all-terrain enthusiasts alike. In this category, see also Thule Urban Glide 2 Double.

$$$ —Baby Jogger Summit X3 Double ~ $649 – A good jogging and all-terrain stroller, has reinforced seats that don't sag in the middle, superior canopies, a hand brake and a hand-operated switch for the front wheel, though heavier and more sluggish for running, handlebar not adjustable, and doesn't take a car seat (at all).

$$$$ —Thule Urban Glide 2 Double Stroller ~ $749 –Top Pick (tie) – The most expensive, but the best all-around performer for a swivel wheel double jogger. There are small things that edge out BOB and Baby Jogger — lighter weight, easy to fold, large covered storage, awesome canopies that swivel, ergonomic handlebar, car seat compatible. Winner winner, chicken dinner!
Price: ~ $199
Weight: 32.5 lbs
Note: This stroller is also listed in the all-terrain category.
This stroller is called a jogger — and some people (who actually run with it) are happy with it. Many, however, are not — mainly because of the front wheel wobble and eventual failure. Thus, it's listed here as an option, but if you are a serious runner, I would advise something with a better build quality.
Price: $699.99 (~ $594 on sale)
Weight: 33.1 lbs
The BOB Revolution Duallie (that's a fancy word for double) offers the same great ride that you experience with the single BOB, but twice the fun.
Price: MSRP $649 (~ $519 on sale)
Weight: 37 lbs
Price: MSRP $749
Weight: 34.2 lbs
We saved the best (and most expensive, LOL) for last.