Top Double Strollers – 2023 Reviews
As your family expands, you're probably trying to figure out a double stroller solution for your growing fam. You've come to the right place! We've been covering double strollers for 8 years now — we basically have a PhD in Double Strollers 😂.
But first.
Having your second (or more!) baby is a very different experience than having your first. You quickly learn that the long, blissful days of staring into your baby's eyes, the hour-long nursing sessions, tummy time and "napping when the baby naps" (ha!) were first-kid things. After all, you still have to take your firstborn to the library, swim class, or school. But with a baby in a tow.
Difficult? Yes. Impossible, No. So, pour yourself a glass of wine, get comfy… settle in. Listen to the docta'.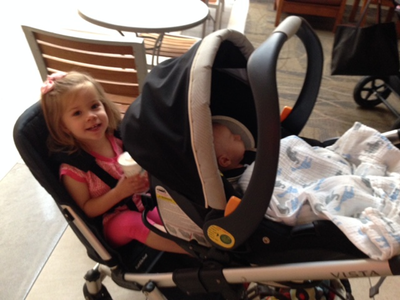 Being able to physically get both/all your children around on your own is not always easy, but it's key to surviving the early years with multiple children. It's also paramount to maintaining your confidence and sanity. See also: Bringing Home Baby #2.
You can do it!
This article is basically Double Strollers 101 — it will help you determine what type of stroller you need and the pros and cons of each. Realizing this may be too much information to digest (I understand, believe me), we narrowed it down to this summary below.
Remember that things are still squirrelly in 2023! Many of these strollers were already hard to find even before the pandemic or product shortages were even a thing. Valco Baby, Maclaren and others… they're still nearly impossible to find on the shelves this year.
Best Double Stroller (by Category)
By the way, it was REALLY hard to narrow it down to just a few because there are SO many different kinds of strollers in this category, and so many of them are fabulous. Please leave us a comment and tell us about your favorite!
The Lay of the Land
With a couple of exceptions, double strollers are generally BIG and heavy. That's because, well, they have to hold a lot of weight! Most of them are rated for 80-100 lbs (or more) of total baby/child meat. I always laugh when I hear people complain about their double stroller, "it's so much heavier than my City Mini." No shit!?
Generally (sorry to say), these strollers are pretty darn expensive, so it's not a decision to make hastily.
Age Difference
The first thing you should know is that the age difference between your children matters. Strollers designed for twins are different from those for a newborn and a young toddler, for example.
Children who are close in age (less than two years) seem to do well in almost any double stroller, while children who are 2-4 years apart often do better in a side-by-side stroller or in a tandem stroller with one "primary" (larger) seat and a smaller seat.
For children with larger age differences… since many of these strollers have an upper weight limit of 40 lbs, look for one with 50 lb seats so you'll be able to use it for longer.
If your oldest will be four or older by the time your 2nd baby arrives, you may not even need (or want) a double stroller — or you may only need it on occasion. Outside of the weight capacity problem (usually 40-45 lbs per seat), most 4-year-olds are too big (height-wise) for many of these stroller seats. But don't worry, there are alternatives…
A preschooler who is too cool to sit in a stroller may still want the option to ride in a sit-and-stand. In fact, many preschoolers seem to prefer standing (vs. sitting) in a sit-and-stand stroller (below), but every child is different.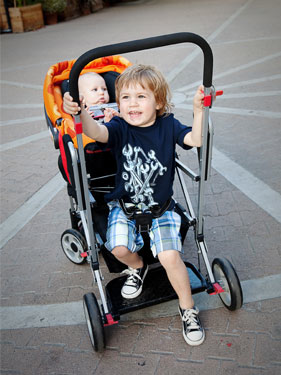 Another alternative to purchasing a double stroller is using a riding board (below) or putting your baby in a carrier while your older child rides in a single stroller.
Most preschoolers are just fine walking alongside the stroller, but sometimes it's nice to have them both contained and under control, like in a crowded market.
---
Types of Double Strollers
If you thought it was hard to choose a single stroller, just wait! Mwaaaa.
Shopping for a double stroller is even more confusing, not to mention much mo­­re expensive. Not to worry, we've selected our favorite doubles and broken them down into 7 distinct categories (below).
Like asking, "What's the best car?", the answer is… it depends on your needs and your budget. Are you looking for a pickup or a sports car?
Tandem vs. Side-by-Side Double Stroller
There are two basic styles of doubles: tandem and side-by-side. Each has its pros and cons.
Tandem
A tandem, or "in-line" stroller, has one seat behind the other. Sometimes they are stacked up stadium-style, other times not. The main benefit of a tandem stroller is that it's the same width as a single stroller, allowing you to get through doorways with ease.
The big downside is that they are harder to maneuver due to their length. This "length problem" also makes it tough to fit some of them into smaller trunks. Another downside of tandems is what I call "seating inequality," where one seat is more desirable than the other. Once your youngest is old enough (about 2.5) to recognize this fact, it could be a source of tension (until then, they are blissfully unaware).
Side-by-Side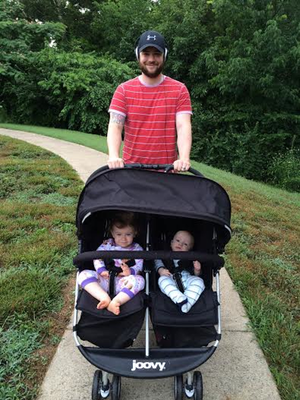 A side-by-side stroller is double wide, like two single strollers smooshed together. Side-by-sides are generally easier to push and steer, but much harder to get through doorways. They can also monopolize a narrow sidewalk, which many people feel is discourteous to others, especially in crowded urban areas. On the upside, the seating equality of a side-by-side means less fighting.
They both have their pros and cons, so it's just a matter of lifestyle and personal preference.
Categories of Strollers – Pros and Cons
Click on a category name for our favorites of each type ~
I. Side-by-Side
A. Double Umbrella Strollers are lightweight strollers with small wheels that fold compactly and are very easy to get in and out of the car, but few bells and whistles and limited storage space. Perfect for airline travel and car outings. (See also: Though for our favorite doubles for travel). Prices range from $100-$500.
Favorite Double Umbrellas
Best for Younger, Smaller Kids: UPPAbaby G-Link2 ~ $350
"After losing a couple of pounds and a couple of inches, the newest version of the G-Link double umbrella, the G-Link 2, is out. We like the lighter weight, design, and ease of use, but there are still some flaws to discuss. That's why we wanted to get this UPPAbaby G-Link 2 review out to you. Let's take a closer look, shall we?

Compared to the previous model, the G-Link 2 is lighter by about 2.5 lbs (now weighing 22 lbs) and narrower by 2 inches. It may not sound like a lot, but every pound matters when it comes to lugging these things around — and this stroller wins in the weight department. And yes, it's Disney approved for their parks…"

KEEP READING
B. General Purpose Side by Sides have medium-sized wheels, mid-range weight, and more storage and features than an umbrella stroller. Prices range from $200-$580. Best when used on smooth, paved surfaces; not great for all-terrain use.
Favorite Side by Sides
"Joovy set out to make a lightweight(ish) (32 lbs), side-by-side stroller that fits through a regular doorway (width = 30″) and gives parents the features they really want: a huge canopy with a peek-a-boo window, individually reclining seats, and TONS of storage.

Function-wise, this stroller is somewhere between a double umbrella stroller (like the UPPAbaby GLink2) and an all-terrain side-by-side (like the Baby Jogger City Mini GT2 Double). Price comparison-wise, the GLink2 is ~ $349, and the City Mini GT2 Double is ~ $699 MSRP. At ~ $299, the Joovy ScooterX2 stroller is a bargain. This is also a great stroller for a nanny-share, due to its ample storage, comfortable seating, and low price.."

KEEP READING
Uber-Lightweight/Travel Side-by-Side ~ $379– The Twin+
"When The Twin+ stroller (which comes in "classic" and "luxe") first came out there was so much buzz about it they couldn't seem to keep it in stock! We wanted to know if it was really all that, so we picked one up and gave it a whirl. Note that in the Twin+ (Zoe XL2) stroller review, we will be discussing the "classic" version of The Twin+. Yes, a lightweight, side-by-side stroller for ~ $300+ is every parent's dream.

While the Zoe brand is newer to the stroller scene, the founders are not. They're a small, family business who've combined their fashion design expertise along with their baby product experience, and set out to make an affordable, double stroller that parents of twins would love. They recently re-named their strollers — for instance, this one used to be called the Zoe XL2 Best V2, and now it's The Twin+ (XL2). The Twin+ is much easier to say (and remember ;-)."

KEEP READING
"Regular" Side-by-Side ~ $499– B-Lively Double
Got two under 5? If so, don't overlook the new(ish) Britax B-Lively Double Stroller to get around town. This stroller carries on the tradition that started with its predecessor, the B-Agile Double, but with a few upgrades. Parents agree: this stroller is a real contender for the best full-featured, lightweight, side-by-side stroller, so we've been very excited to write this Britax B-Lively Double stroller review.

KEEP READING
C. All-Terrain Doubles have heavy-duty all-terrain wheels, usually with a front wheel(s) that will swivel or lock. Many can be used for "light" jogging. All terrain side-by-sides are all pretty heavy and bulky, and they generally take up a lot of trunk space. But they are downright delightful to push and steer. They are full-featured and tend to be the most expensive. Prices range from $200-$750, except for the Bugaboo Donkey (~$1,300+).
* These are the most popular in the doubles world.
Best "Compact All-Terrain" Side By Sides
Are you looking for a super lightweight and narrow side-by-side double stroller that's easy to maneuver, is great for travel, fits through doorways and grocery store aisles with no problem, and easily fits in your trunk with room to spare? Then you must check out Valco Baby's newest double stroller (which effectively replaces the Neo Twin): the Valco Baby Slim Twin (~ $599). At only 24 lbs and 26 inches wide, it lives up to its name; the Slim Twin is the narrowest of all of Valco's double strollers, and one of the slimmest double strollers on the market (almost 5 inches smaller than most side-by-side strollers!).

KEEP READING
The City Mini GT2 Double is a side-by-side all-terrain double stroller that manages to be both nimble and compact! It serves an important niche: city dwellers who still want all-terrain capabilities to roll through parks and old sidewalks; and, you know, to zig zag through drunks passed out on the sidewalk (cue #SanFranLiving), cable car tracks, and whatever else city living throws your way.

KEEP READING
D. Double Joggers are for serious runners and have either a permanent fixed front wheel or a high-quality swivel/fixed wheel and large, 16″ air-filled tires in the back. If you're a serious runner, this is where you want to look. These strollers range from $300-$650.
Favorite Double Joggers
"To own him is to love him. BOB, that is. Typically when studying customer reviews, you see a fairly even distribution of likes and dislikes: 1 star, 5 stars, and everything in between; not so much with this stroller.

The vast majority of the reviews of this stroller are 5-star, making it VERY highly rated. Prior to Thule emerging on the scene, it used to be a runaway favorite double jogger (no pun intended). Don't get me wrong, we still like it very much, but note that it's now pretty much tied(ish) with the Thule Urban Glide Double…"

KEEP READING
"Move over BOB, there's a new double jogger in town: welcome to our much-anticipated Thule Urban Glide 2 Double Stroller review.

We are super excited about the Thule Urban Glide 2.0 Double, which made its debut in 2018, and just recently got a facelift at the end of 2020 (it's even sleeker than before!). Note that the "2.0" denotes that this is the 2018 model, not the fact that it's a double."

KEEP READING
II. Tandem
A. Twin Car Seat Frames are designed to carry two infant car seats at the same time. They are lightweight (as lightweight as possible), compact, easy to fold, and will last for roughly 0-12 months. They run $100-$300.
B. Convertible (All-Terrain) Strollers can be used "normally" as a single, or with a 2nd seat added on to make it a double. Even in singles mode, convertible strollers are bulkier and heavier than regular single strollers, but they are very versatile and last a long time. "Convertible" typically denotes all-terrain as well. They run around $500-$1,000 and are very popular.
Favorite Convertible Strollers
"The Mockingbird Single-to-Double stroller is relatively new on the scene, and we're totally here for it. This convertible stroller can easily accommodate two kids, with the use of the 2nd seat kit, purchased separately — note: it won't be long until this stroller is also able to hold three kiddos — making it good pick for big families — with the addition of a glider board, debuting soon.

Both the toddler seat and the 2nd seat are exactly the same — there's no big kid/little kid seat situation, like on some convertible strollers (looking at you, Britax B-Ready G3). Both seats can accommodate children up to 45 lbs, which definitely isn't as much as the Nuna Demi Grow (50 lbs) or the Evenflo Pivot Xpand (55lbs), but should get you to your kids' 3rd (and maybe even 4th??) birthdays…"

KEEP READING
Best Convertible/Tandem for Flat Areas and Bigger Kids: Baby Jogger City Select 2 ~ $749 (Double)
Are you in the market for a convertible, all-terrain stroller that can accommodate one, two, or — with a glider board (sold separately) — even three kids? The Baby Jogger City Select 2, which hit the market in July of 2021, combines the best features of the (regular) City Select Double Stroller and City Select Lux strollers — and weighs about 5 lbs less than the City Select Lux! In fact, this new model (the "2") replaces both of those old models, which have now been officially discontinued.

KEEP READING
Best Luxury Convertible/Tandem (Any Terrain): UPPAbaby Vista ~ $1,344 (Double)
Best for Urban/Tight Spaces, Superior Maneuverability: Nuna Demi Grow ~ $1,149 (Double)
"Is the new Nuna Demi Grow convertible stroller worth the splurge? I've spent weeks putting this massive investment to the test to bring you the good, the bad and the ugly so you can make the most informed buying decision. Note: unlike other sites, our Nuna Demi Grow review is NOT sponsored!

If you've been eyeing this stroller on looks alone (who hasn't?), good news: this baby has beauty and brains. It's an incredibly well-designed piece of equipment, both aesthetically and functionally…"

KEEP READING
C. All-Purpose Tandems have smaller wheels that won't go over heavy terrain and are generally less expensive. They are typically loaded with convenience features and are best used on smooth surfaces. They run from $160-$300.
D. Sit and Stand strollers are good for those who have an infant and an older child at least 2.5 years old (minimum!). Older children often want to hop in and out of the stroller on their own. Your older child can sit or stand in the back with (or without) being buckled in. They run from $130-$400.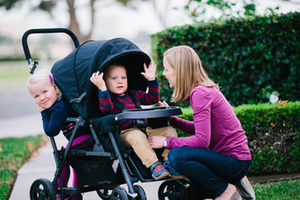 Favorite Sit and Stand
"Joovy shaved 4 lbs off the regular Caboose by constructing this stroller of graphite-colored, lightweight, aircraft-grade aluminum. The Caboose Ultralight Graphite registers at just 22 lbs, making it a lightweight, versatile stroller for any parent of two.

The Caboose Ultralight Graphite comes standard with a parent organizer, a removable child tray, a universal car seat adapter, and a large, sturdy sun canopy…"

KEEP READING
There are a few strollers for 3 young kids, triplets, or twins and a singleton. Our favorite is the Valco Baby Tri-Mode Double plus Joey seat. Another option is a double stroller with a riding board.
Favorite Strollers for 3+
"Looking for a stroller that can handle up to four kids like a dream? Check out our Valco Baby Tri Mode Duo X review. Valco Baby is an Australian company whose strollers are often hard to find in the US, though most of the line is now on Amazon and pretty reliably at Pish Posh Baby and Albee Baby in New York City. That's about it! When they sell out, they're gone for a while.

To say I love this stroller would be a complete understatement. In a nutshell, it is "the" all-terrain stroller for growing families (and at a pretty decent price, all considered). The Duo X is a great stroller for two kids; but you can also attach the Toddler Seat (sold separately for ~ $129) if you have three kiddos, like me (I have twins and an older singleton). Got four kids? No problem: attach Valco's Hitchhiker Ride-On Board for your oldest child; and all four can ride in style…."

KEEP READING
---
Ok folks, those are the categories of double strollers. You can click each category to drill down and see what our favorites are.
Good luck out there!! ~ Meg and Marissa

---