Looking for the best stroller for twins? In this article we discuss the various types of twin strollers and our favorites of each.
Jump to:
In a nutshell, there are three types of twin strollers.
For newborn and infant twins, there's your basic double frame stroller, which is used solely to cart around babes in their car seats.
Next are your full-featured double strollers, which can be used from infancy well into toddlerhood.
Last are the double umbrella strollers, which are lightweight(ish) and indispensable for travel with your 6+ month old twinnies. For those, please see the double umbrella stroller guide.
Newborns and Infants: your twin stroller options
For newborn twins, there are two routes you can take in the stroller department:
1. Get a double frame stroller for the first 9 months or so, then get your "real stroller" later in the first year.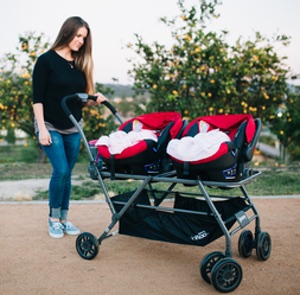 Frame strollers are built specifically to hold babies in their car seats – and nothing else (i.e., they don't have "seats" of their own). Thus, they only last for as long as your babes are in their infant car seats, which is roughly a year (or less). Realistically, most twin parents use them for about 9 months. After 9 months (give or take), the babies are too heavy to carry around in their car seats.
The main reason people use frame strollers is because they are extremely lightweight (compared to their full-sized counterparts), easy to use, and easy to get in and out of the car.
If you live in a rural area, or any area where you will encounter non-paved or uneven surfaces (cobblestones, uneven sidewalks, etc.) on a daily basis, or you live in a place with snow/ice, etc., the frame stroller won't work very well for you. Thus, an all-terrain twin stroller is more appropriate.
Most parents of multiples stick with strategy number one to start with, the simple twin car seat stroller frame, because it's so lightweight and convenient (with the caveat that frame strollers don't work well on rough terrain), and then later upgrade to their full-featured stroller.
If you drive a lot, some parents keep their frame stroller in their car at all times and keep their nice double stroller at home in the garage.
As you can see, there are many ways of skinning this cat! It all depends on the needs of your lifestyle.
Ok, let's drill down a little deeper….
Best Full-Featured Twin Strollers
The synopsis (in order of price) –
Best Strollers for Twins – In Depth
While writing the complete Double Stroller Guide, we made special note of those strollers that would be especially awesome for twins. Our twins editor (Marissa) and I compared notes with our twin parent friends, and voila.
Some of these are tandems and some are side-by-sides (SBS). Which type is right for you? Please read the introduction in our double stroller guide to learn more about the pros and cons of each kind.
The pickings for twin strollers are somewhat slim because of our stringent criteria for a good twin stroller:

1. Few double strollers take two infant car seats (or two bassinets) at the same time. Those that do typically stagger the car seats in a stadium-seating configuration to allow room for both, and also to balance the stroller so it doesn't tip over.

2. Many double strollers (tandems, especially) have a "big kid seat" and a "little kid seat." While these can work for twins, it's much better to have two identical seats. The Britax B-Ready G3, for example, is an awesome double stroller that can take two car seats, but has the big/little seats (one 55 lb seat and one 35 lb seat), so it's not ideal for twins.

Furthermore, strollers with two big seats (40-45 lb limit seats) can be used for longer (vs. other strollers where the max weight of the little kid seat is 30 lbs or so).
Without further ado, here are our favorite twin strollers:
Price: $177
Stroller Weight: 23 lbs
Weight Limit: 40 lbs per seat (80 lbs combined)
If you're looking for a budget stroller that isn't a POS and has plenty of solid features, definitely check out the Kolcraft Cloud Plus Lightweight Double Stroller.
Reviewers really seem to like this pick. At only 23 lbs, it's really lightweight (as the title implies…), especially for a double. It also has an awesome extended three-tier canopy (with peek-a-boo windows to check on the babies) that users say really shields kids from the sun.
Also nice is that this stroller has actual usable storage: there are two storage baskets under the stroller that, depending on its size may fit your diaper bag, as well as some other smaller items such as blankets, sun hats, toys, snacks, diapers and wipes, etc.; and the stroller also comes with a parent tray which includes two drink holders (mama needs her coffee, people!), and removable child trays with sippy cup and juice box holders.

People also appreciate the stroller's self-standing fold, which, along with it's lightness, make this a great choice for taking on vacations.
Something to note, however, is that the seats only recline slightly. So, if you're hoping your younger twins will nap comfortably in this stroller while you're out and about…it may not happen. Just 'sayin.

Price: $399
Stroller Weight: 34 lbs
Weight Limit: 40 lbs per seat (80 lbs combined)
This tandem stroller is one of the more affordable "good for twins" double strollers. We call it the "poor man's City Select" because it offers many of the same features, but for a lower price tag. It accepts two infant car seats as well, making it an awesome pick for twins.
The City Mini GT Double is a super popular side-by-side double stroller that's also great for twins! This is the all-terrain version of the "regular" City Mini double.
The big downside to this stroller for twins is that you can only use it with one car seat at a time, which won't help much for newborn twins; however, you can buy two compact prams for use in infancy (0-6 months only), or for 3 month+ twins in the regular seats.
The Baby Jogger City Select is the most popular tandem twin stroller – and one of my favorites as well. The City Select is a convertible stroller, which means it can be used as a single or as a double. For twins, you can buy the whole thing as a double– and hey, it's good to know you can use it for a singleton should you have another [single] baby (never say never! Haha).
The Peg Perego Book for Two can be used as a double travel system from birth (with Peg Perego car seats only, FYI), and later on as your full-sized double stroller. It's narrow and easy to push, maneuver and fold. It rides well over various types of terrain and has a lot of luxury features that make it a solid pick for your twins.
This lightweight, all-terrain stroller holds up to 45 lbs per seat, giving it a nice, long lifespan for your twinnies. Like the City Mini GT, this stroller can only take one car seat, but each seat reclines (independently) fully flat, which means you can put the youngest of babes directly in the seats (without car seats).
Price: MSRP $679
Stroller Weight: 34 lbs as a double
Weight Limit: 79 lbs combined
One of the unique features of many Valco Baby strollers is that you can add a third seat (the toddler seat) for a third child to ride along in the stroller. We discuss this in depth in the Best Strollers for 3 Babies or Toddlers.
Price: $799
Stroller Weight: 36 lbs
Weight Limits: 90 lbs combined
10. Nuna Demi Grow — Compact, "Drives Like a Single" Luxury Pick: Tandem
Price: $979 as a double ($799 as single, which comes with car seat adapter that works with Nuna Pipa or Maxi Cosi car seats)
Price for Infant Bassinet: ~ $199
Stroller Weight: 27.4 lbs (singles) and 35.6 (doubles)
Weight Limit: 50 lbs per seat (both the toddler and second seat are exactly the same!)
The Nuna Demi Grow has a special "twin mode" that allows you to stroll both your babies simultaneously in car seats, bassinets or regular seats once they're older. Yay! (Bassinets, car seats and second seat sold separately.)
Price as a Double: $1,169
Price as a Single: MSRP $929+; Rumble Seat (to make it a double) : $199
Stroller Weight: 26.6 lbs (single) and 32.6 lbs (double)
Weight Limit: 50 lbs per seat (100 lbs combined); included bassinet up to 30 lbs; 35 lbs for the second seat 
The UPPAbaby Vista V2's multiple configurations make this stroller very versatile — and awesome for twins! It accepts two bassinets or two infant car seats at the same time. It can also be used later as a single stroller should you have another singleton down the line. Compared to the Nuna Demi Grow, the seats are more accessible and can double rear-face (even though it is a big seat/little seat stroller), has better storage in doubles mode, but less maneuverability compared to the Demi Grow.
12. Bugaboo Donkey3 Twin — Only Side-by-Side With a Double Rear-Facing Feature
Price: $1,889+
Stroller Weights: 27.5 lbs (Mono) and 31.5 lbs (Duo & Twin)
Weight Limit: 50 lbs per seat (100 lbs combined)
Bugaboo makes a version (a package, rather) of the Donkey2 that is specifically for twins.
With the Twin version, here is what you get:
Base materials: chassis with wheels, seat/bassinet frame, sun canopy wires, carry handle, under-seat basket, rain cover
Base fabrics: seat fabric, bassinet fabric and apron, side luggage basket
Two extendable sun canopies
Side luggage basket cover
Duo extension set: second seat/bassinet frame, sun canopy wires, carry handle, rain cover
Second seat fabric
Second bassinet
It's a complete package, but you won't get out the door for much less than $2k.
The truly unique feature of the Donkey is the double rear-facing feature. You won't find this in any other side-by-side stroller.
Ok friends, that covers our favorite twin strollers! I hope you found something you like. Is there one we missed? Please leave a comment below. Cheers!